Birding info of Jiangsu, China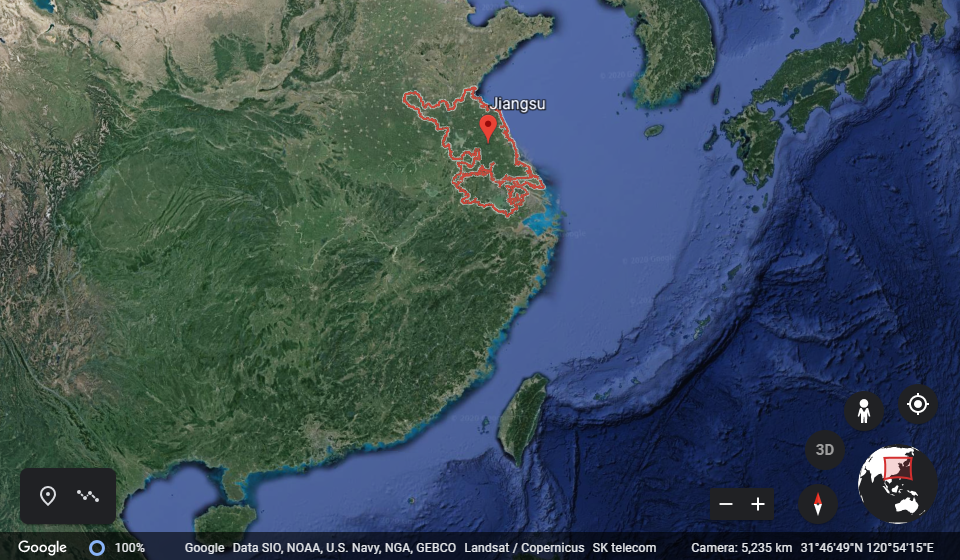 Lying on the Yangtze River Delta in east China, Jiangsu Province covers an area of 102,600 square kilometers. It is the lowest province of China because most parts of the province standing at under 50 meters in sea elevation. The province is mainly formed by Sunan, Jianghuai, Huanghuai, and Eastern Coastal Plains. Situated in the transitional area between north China and South China, Jiangsu has abundant wildlife from both north and south areas. One bird migration path from East Asia to Australia goes through this province.
There are numerous rivers and lakes in Jiangsu Province including Taihu and Hongze Lakes which are the two of the largest freshwater lakes in China. And the long coastline with broad mudflats endowed Jiangsu with the abundant bird species especially water birds. According to the statistics, there are 448 bird species recorded in Jiangsu Province. The northern Jiangsu experiences a temperate semi-humid monsoon climate while the southern part has a subtropical humid monsoon climate.
The capital of Jiangsu Province is Nanjing, one of the most famous ancient capitals of China.
Some Important Birding Sites in Jiangsu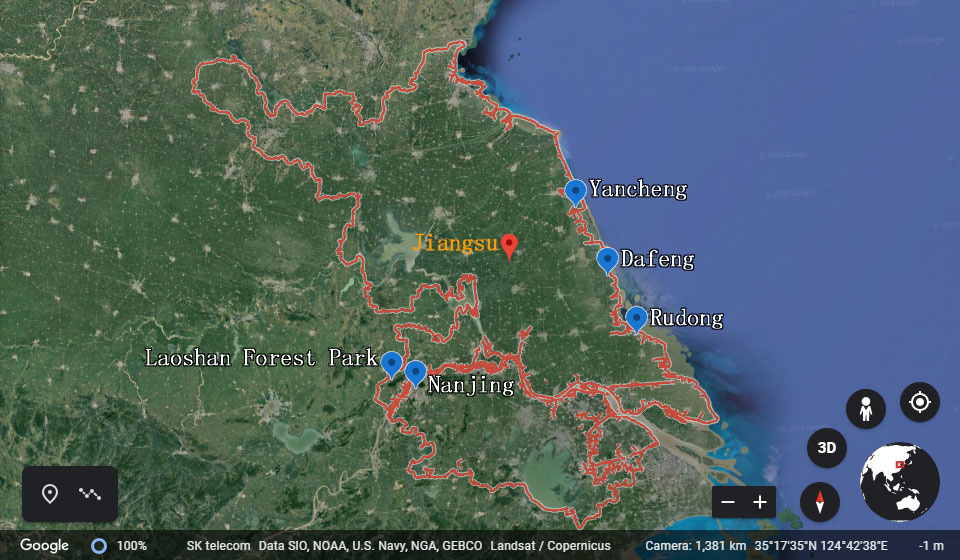 Located in the east of Jiangsu Province, Yancheng Nature Reserve was established in 1983 and upgraded to a national reserve in 1992. It was included in the List of Ramsar wetlands of international importance in 2002. The reserve aims to protect Red-crowned Cranes and the coastal wetlands. Covering 45.33 hectares, Yancheng Nature Reserve is the largest coastal reserve. There are 379 bird species have been recorded in the reserve. As an important stopover and wintering habitat, there are over 3 million migrating birds fly through and almost 1 million inhabit here during ever spring and autumn. The reserve also boasts the largest wintering place for Red-crowned Cranes. Other birds like Hooded Crane, Common Crane, Sandhill Crane, Oriental Stork, Bewick's Swan, Whooper Swan, Swan Goose, Greater White-fronted Goose, Taiga Bean Goose, Tundra Bean Goose, Common Shelduck, Gadwall, Smew, Goosander, Northern Lapwing, Eurasian Spoonbill, Black-winged Kite, Hen Harrier, Eastern Buzzard, Chinese Grey Shrike, Azure-winged Magpie, Reed Parrotbill, Vinous-throated Parrotbill, White-cheeked Starling, Buff-bellied Pipit, Yellow-billed Grosbeak, Yellow-throated Bunting, Rustic Bunting, etc.
The Rudong Coastal Wetlands are important habitats for waterbirds in the Yellow Sea, according to a 2016 study of the Institute of Geographical Sciences and Natural Resource Research of the Chinese Academy of Sciences. It is critical to the survival of many migratory waterbird species using the East Asian-Australian Flyway. It is the staging and over-wintering habitats for migratory waterbirds, and home to about 370 birds recorded in this area. Some critically endangered species like the spoon-billed sandpiper, Baer's Pochard can be found in the area, too. There are lots of birding hotspots around this area, like Yangkou, Jianggang, Dongtai, Haiyinsi Temple Wood, Magic Wood, etc. Other birds like Nordmann's Greenshank, Eurasian Oystercatcher, Gray-headed Lapwing, Kentish Plover, Pacific Golden-Plover, Eurasian Curlew, Bar-tailed Godwits, Grey Plovers, Lesser Sandplovers, Ruddy Turnstone, Red Knot, Curlew Sandpiper, Red-necked Stint, Terek Sandpiper, Marsh Sandpiper, Saunders's Gull, Black-tailed Gull, Chinese Pond-Heron, Reed Parrotbill, White-cheeked Starling, Japanese Thrush, Eyebrowed Thrush, Azure-winged Magpie, Chinese Penduline-Tit, Zitting Cisticola, Yellow-browed Warbler, Eastern Crowned Warbler, Two-barred Warbler, Manchurian Bush Warbler, Dark-sided Flycatcher, Blue-and-white Flycatcher, Mugimaki Flycatcher, Rufous-tailed Robin, Red-flanked Bluetail, Yellow-billed Grosbeak, Tristram's Bunting, Meadow Bunting, etc.
Established in 1986 and became a national reserve in 1997, Dafeng Nature Reserve is located in Dafeng county east of Jiangsu facing the Yellow Sea. In 2002, the reserve was listed in Ramsar wetlands of international importance. It aims to protect David's Deer and its habitat. The reserve is rich biodiversity which has recorded 315 bird species including 4 first-grade state protection species and 19 second-grade state protection ones. Such as Smew, Grey Plover, Northern Lapwing, Grey-headed Lapwing, Lesser Sand Plover, Ruddy Turnstone, Great Knot, Spoon-billed Sandpiper, Terek Sandpiper, Saunders's Gull, White-winged Black Tern, Eurasian Spoonbill, Black-faced Spoonbill, Azure-winged Magpie, Reed Parrotbill, Yellow-billed Grosbeak, Black-faced Bunting, etc.
Located in Jiangpu Nanjing the north shore of the Yangtze River, the park covers an area of 7,493 hectares and 80% of the park is forest. The park was established in 1991 and it used to be a log farm. The park has abundant botanical resources with about 726 plant species which makes it an excellent habitat for forest birds. According to statistics, the reserve has recorded 164 bird species including Fairy Pitta, Crested Serpent Eagle and some other rare species, such as Chestnut-winged Cuckoo, Large Hawk-Cuckoo, Lesser Cuckoo, Chinese Pond Heron, Black Baza, Grey-faced Buzzard, Crested Goshawk, Chinese Sparrowhawk, Black Kite, Grey-capped Woodpecker, Great Spotted Woodpecker, Brown-rumped Minivet, Black-naped Oriole, Hair-crested Drongo, Tiger Shrike, Grey Treepie, Azure-winged Magpie, Yellow-bellied Tit, Collared Finchbill, Light-vented Bulbul, Black Bulbul, Silver-throated Tit, Black-throated Tit, Chinese Blackbird, Blue Whistling Thrush, Russet Sparrow, Yellow-billed Grosbeak, etc.