Birding info of Taiwan, China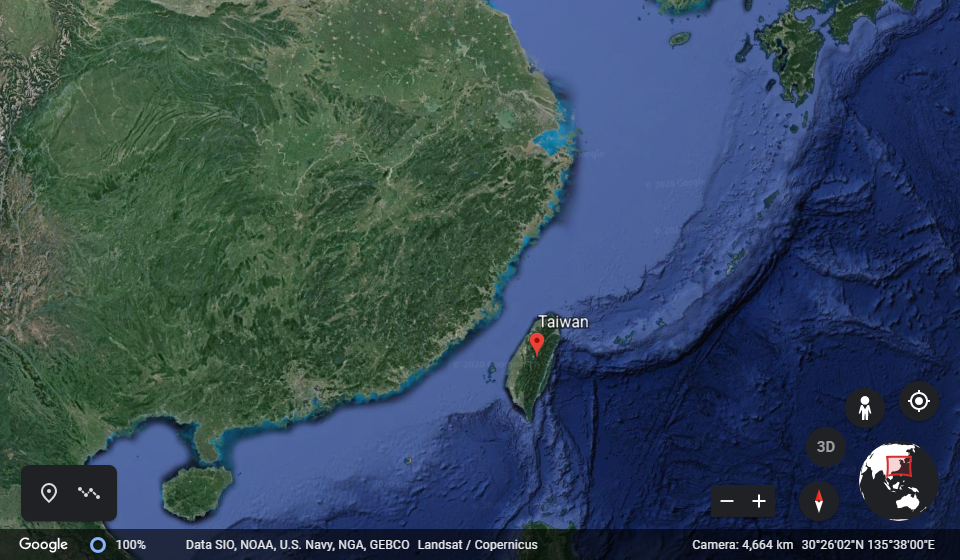 Taiwan situates on the continental shelf of southeastern China. Covering 36,000 square kilometers of land territory, Taiwan consists of the Taiwan Island, Penghu Islands, Green Island, Diaoyu Island, and some other islands with different sizes. The Tropical of Cancer divides Taiwan Island into two climatic regions with the subtropical area in the north and tropical area in the south.The terrain of Taiwan Island is characterized by mountainous east, hilly centra and flat west.
Mountains and hills cover two third of the total island territory that mainly runs northeast-southwest. The highest point of Taiwan is 3,952 meters above sea level.
With 52% of its land territory is covered by forest, Taiwan belongs to the converging region of The Palaearctic realm and Oriental realm. Many continental and Himalayan bird species can be found on this island and a large flock of migratory birds wintering here, Taiwan has abundant bird resources. Among the 550 species that have been recorded in Taiwan, there are 16 species endemic to Taiwan. Taiwan has a population of 23 million people and the capital is Taipei.
Some Important Birding Sites in Taiwan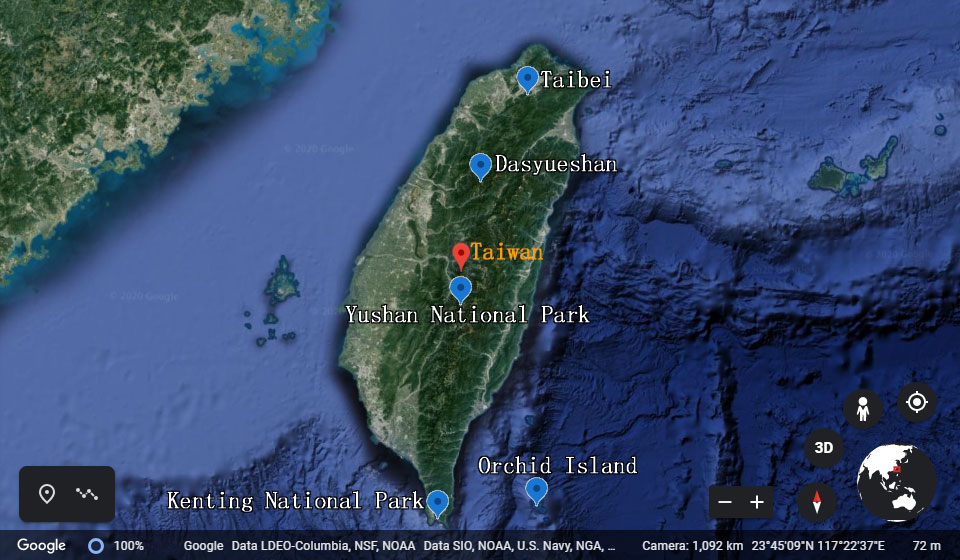 Established in 1982, Kenting is the first national park of Taiwan. It is located in the Hengchun Peninsula the southernmost of Taiwan Island. Covering 18,084 hectares of land territory and 15,185 hectares of ocean territory, the park belongs to tropical climate. Kenting has rich biological resources with about 2,200 plant species. There are 110-130 bird species been recorded in every New Year bird survey, including Taiwan Bamboo-Partridge, White-bellied Green-Pigeon, Whistling Green-Pigeon, Pacific Reef-Heron, Osprey, Crested Serpent-Eagle, Mountain Hawk-Eagle, Chinese Sparrowhawk, Crested Goshawk, Peregrine Falcon, Eurasian Hobby, Taiwan Barbet, Styan's Bulbul, Taiwan Scimitar-Babbler, White-eared Sibia, Brown-headed Thrush, etc.
Yushan National Park lies on the central part of Taiwan Island with a length about 300 kilometers. The main peak of Yushan mountains is located 2.3 kilometers north of the Tropical of Cancer and has an elevation of 3,952 meters which contributes it the highest point of Taiwan and East China as well. Covering 105,490 hectares, the park is the second largest national park in Taiwan. It has a typical subtropical mountainous geological condition with high peaks and deep valleys. According to the investigate in 2009, Yushan National Park has recorded 189 bird species belongs to 48 families under 14 orders which account about one third of the total bird species of Taiwan. Such as Taiwan Partridge, Taiwan Bamboo-Partridge, Mikado Pheasant, Swinhoe's Pheasant, Ashy Wood-Pigeon, Crested Serpent-Eagle, Taiwan Barbet, Taiwan Blue-Magpie, Taiwan Yellow Tit, Taiwan Cupwing, Black Bulbul, Taiwan Yuhina, Taiwan Scimitar-Babbler, Morrison's Fulvetta, Rusty Laughingthrush, Taiwan Barwing, Steere's Liocichla, Vivid Niltava, Taiwan Shortwing, Taiwan Whistling-Thrush, Taiwan Rosefinch, etc.
Dasyueshan is a mountain in Taiwan along the Xueshan Range with an elevation of 3,530 m. And the Dasyueshan National Forest Recreation Area in Heping District, Taichung, contains a section of Dasyueshan, consisting of several shorter peaks, with Siaosyueshan being the tallest at 2,997m. Formerly a logging area, many of the affected areas have been reforested and it has become a popular scenic destination and birdwatching spot. Bird species seen here include the Mikado pheasant, Swinhoe's pheasant, Taiwan partridge, Yellow Tit, Green-backed Tit, Rusty Laughingthrush, Rufous-crowned Laughingthrush, Taiwan Yuhina, Black-necklaced Scimitar Babbler, Taiwan Hwamei, White-eared Sibia, Steere's Ocichla, Taiwan Cupwing, White-backed Woodpecker, Brown Bullfinch, Snowy-browed Flycatcher, Vivid Niltava, Island Thrush, Collared Scops Owl, Mountain Scops Owl, Flamecrest, Taiwan Bush Warbler, Tawian Fulvetta, Taiwan Barwing, Collared Bush Robin, Taiwan Rosefinch, White-browed Bush Robin, Golden Parrotbill, etc.
Orchid Island also known by other names, is a volcanic island off the southeastern coast of Taiwan Island. It is separated from the Batanes of the Philippines by the Bashi Channel of the Luzon Strait. It is governed as Lanyu Township of Taitung County, Taiwan, which also includes the nearby Lesser Orchid Island. There are more than 200 species been recorded, such as Bulwer's Petrel, Streaked Shearwater, Wedge-tailed Shearwater, Brown Booby, Japanese Paradise Flycatcher, Whistling Green Pigeon, Elegant Owl, Brown-eared Bulbul, Lowland White-eye, Pacific Reef Heron, etc.