Birding info of Fujian, China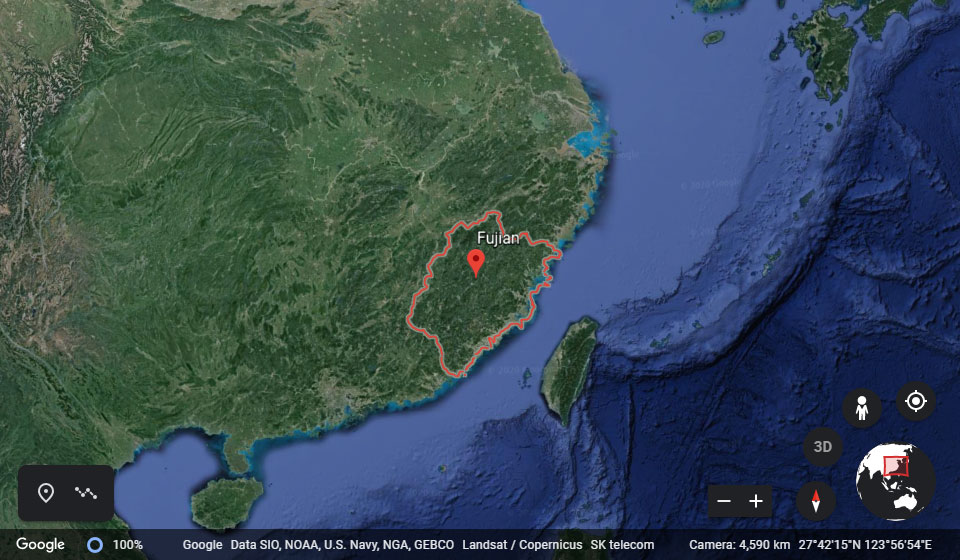 Located on the southeast coast of China, Fujian Province covers 124,000 square kilometers of land territory and 136,000 square kilometers of ocean territory with 3,751 kilometers of rugged coastline. Fujian Province has numerous islands, bays, and intertidal mudflat areas. Being in the subtropical area, Fujian has abundant rainfalls and mildclimate enjoys rich and diversified wildlife resources.
There are 159 animal species under national key protection and 4,000 species of higher plants. The bird resources in Fujian Province are extremely rich. In 2003, this province recorded 551 bird species and subspecies in total. About 607 bird species have reported in history in the province. Among bird species in Fujian, winter residents rank first with around 178 species, resident birds come second with 169 species. Moreover, passing migrants can also reach 123 species.
Because Fujian is located on Southeast coast with mild climate and abundant rainfall, it is an important stopover for migratory birds from south to north and an excellent wintering area for high-latitude breeding birds from north in autumn and winter. Though under Oriental realm, Fujian province has more bird species from Palaearctic realm than those from Oriental realm due to the coming of wintering birds and passing migrants from Palaearctic realm. However most resident birds and summer visitors are from the Oriental realm. According to statistics, among 551 species of birds, 14 species are endemic to China.
Fujian has a subtropical humid monsoon climate with warm winter. The provincial capital of Fujian is Fuzhou which as a history of 2,200 years.
Some Important Birding Sites in Fujian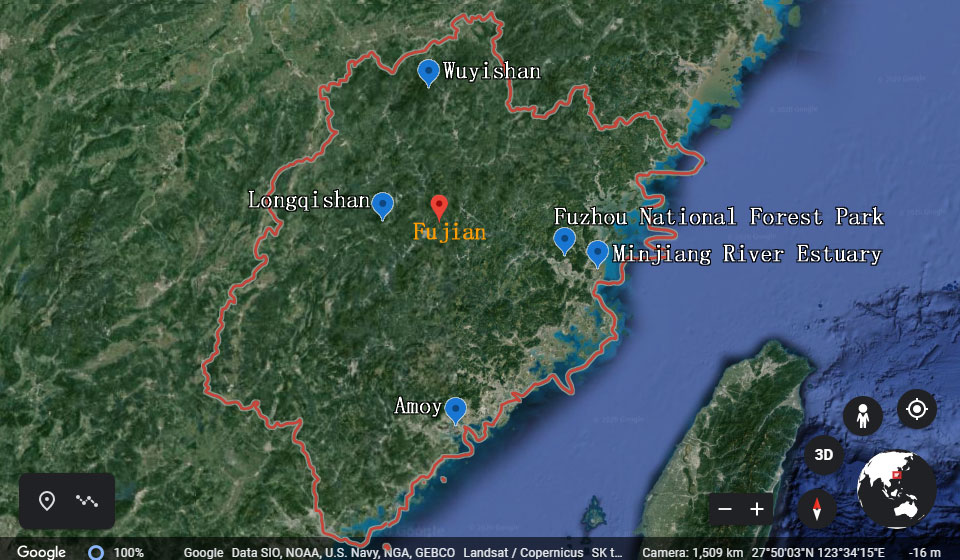 It is located at the border between Fujian and Jiangxi which is the watershed of the Gan River and the Min River, with a Mid-subtropical evergreen broad-leaved forest. In 1979 it was set up as a national nature reserve. In 1987 it was listed in "Man and Biosphere Reserve Network" by UNESCO and as World Heritage Site in 1999. Guidun and Emeifeng in Wuyi Mountain is known as Bird Paradise. Forest bird is the main bird species living here. This reserve has recorded 234 bird species and subspecies in history including Cabot's Tragopan, Elliot's Pheasant, White-necklaced Partridge, Silver Pheasant, Koklass Pheasant, Chinese Bamboo-Partridge, Large Hawk-Cuckoo, Black Eagle, Serpent-Eagle, Collared Owlet, Great Barbet, Speckled Piculet, Bay Woodpecker, Grey-chinned Minivet, Blyth's Shrike-Babbler, White-bellied Erpornis, Grey Treepie, Sultan Tit, Yellow-cheeked Tit, Brown Bush Warbler, Pygmy Cupwing, Chestnut Bulbul, Black Bulbul, Mountain Bulbul, Buff-throated Warbler, White-spectacled Warbler, Chestnut-crowned Warbler, Hartert's Leaf Warbler, Rufous-faced Warbler, Grey-headed Parrotbill, Indochinese Yuhina, Black-chinned Yuhina, Rufous-capped Babbler, Grey-sided Scimitar-Babbler, Greater Necklaced Laughingthrush, Lesser Necklaced Laughingthrush, Spotted Elachura, Spotted Forktail, Slaty-backed Forktail, Chestnut-bellied Rock-Thrush, etc.
Fuzhou National Forest Park
Built in 1960, the Fuzhou National Forest Park covers 860 hectares and is rated as one of the top ten forest parks in China. This extensive natural area features more than 2,500 kinds of rare and precious trees from 36 countries that have been introduced and planted inside the park. Inside the park, there are many gardens for certain groups of precious trees species. This park has recorded more than 200 bird species in history including White-necklaced Partridge, Chinese Bamboo Partridge, Silver Pheasant, Spotted Elachura, Mountain Hawk-Eagle, Greater Coucal, Red-headed Trogon, Rufous Woodpecker, Pale-headed Woodpecker, Scarlet Minivet, Large Woodshrike, Common Tailorbird, Red-whiskered Bulbul, Mountain Bulbul, Chestnut Bulbul, Yellow-browed Warbler, Pallas's Warbler, Grey-headed Parrotbill, Black-streaked Scimitar-Babbler, Orange-bellied Leafbird, Tristram's Bunting, etc.
It includes Fuzhou city and the surrounding areas on the southeastern coast of Fujian Province. Covering over 3,000 hectares, Minjiang River Estuary is the largest natural wetland along Minjiang river system and an important stopover for migratory birds as well as a wintering area for various water birds because of its unique geographical location. In addition, the wetland also serves as a temporary "shelter" for some sea birds due to sudden bad weather. The wetlands have different habitats, rivers, coasts, basins, hill and islands for different birds. Such as Chinese Crested Tern, Great Crested Tern, Whiskered Tern, White-winged Black Tern, Caspian Tern, Gull-billed Tern, Black-tailed Gull, Wood Sandpiper, Spotted Redshank, Dunlin, Sanderling, Red-necked Stint, Sharp-tailed Sandpiper, Red Knot, Far Eastern Curlew, Grey Plover, Black-faced Spoonbill, Osprey, Peregrine Falcon, Yellow-bellied Prinia, Plain Prinia, Oriental Reed Warbler, etc.
Longqishan Nature Reserve
Longqishan Nature Reserve, located in the northwest of Fujian province, was set up in 1984 and upgraded to national reserve in 1998. Covering 15,700 hectares, Longqishan Nature Reserve has 9,000 hectares of pristine forest and secondary forest with forest coverage reaching 97%. In 2006, Alcedo hercules—an international endangered bird has been found in this region. The famous "Three Treasure Birds of Fujian" are found in Longqi mountain, namely White-necklaced Partridge, Cabot's Tragopan, Elliot's Pheasant. Other birds like Blyth's Kingfisher, Dollarbird, Chinese Barbet, Red-headed Trogon, Silver Pheasant, Crested Goshawk, Black Baza, Scarlet Minivet, Grey-chinned Minivet, Bay Woodpecker, Indochinese Yuhina, White-crowned Forktail, Slaty-backed Forktail, etc.
Amoy, located on the south coast of Fujian province, is known as "Aigrette Island" because it is the habitat for egrets. Amoy is small but has recorded more than 300 bird species. Amoy is an ideal bird-watching area for many bird-loving people. As Amoy is in the migratory route of East Asia, the spring becomes the season of highest number of birds in a year. Such as Greater Coucal, Grey-headed Lapwing, Kentish Plover, Little Ringed Plover, Dunlin, Marsh Sandpiper, White-winged Black Tern, Little Tern, Black-naped Tern, Yellow Bittern, Grey Heron, Osprey, White-throated Kingfisher, Crested Kingfisher, Pied Kingfisher, Blue-tailed Bee-eater, Chinese Penduline Tit, Oriental Reed Warbler, Black-browed Reed Warbler, Sooty-headed Bulbul, Red-whiskered Bulbul, Grey-backed Thrush, Brown-headed Thrush, Fork-tailed Sunbird, Tristram's Bunting, etc.