Xinjiang Ground Jay Extension
As an extension to the 11 days "Classic Xingjiang Birding Tour", this excursion focuses on two endemics that we have little chance to see on the main tour, namely the Xinjiang Ground Jay and Tarim Babbler. We can also enjoy some other interesting species including Stock Dove, White-winged Woodpecker, Azure Tit, Booted Eagle, Saxaul Sparrow, Desert Wheatear, Desert Finch, etc.
Tour Info Sheet
| | |
| --- | --- |
| Highlight Birds | Xinjiang Ground Jay, Tarim Babbler, Stock Dove, White-winged Woodpecker, Azure Tit, Booted Eagle, Saxaul Sparrow, Desert Wheatear, Desert Finch, etc. |
| Ease of Birding | mostly easy birding with a few tricky species |
| Other Attractions | stunning desert scenery |
| Photography Opportunities | birding focused but with very good photography chances |
| Habitats Covered | woodlands, desert |
| Expected Climate | comfortable, temperature varies widely from day to night, rain is possible |
| Physical Requirements | mostly easy, demanding but optional in certain parts |
| Accommodation | very comfortable |

What makes this trip irreplaceable?

1. Searching for the incredible endemic Xinjiang Ground Jay and Tarim Babbler.
2. The breath-taking scenery of vast desert and grassland.
3. Experienced local guide who has guided this trip many times ensures you a lifetime traveling experience.
4.

A small group size of no more than 8 travelers.
5.

Years of working as a local partner for some prestigious western companies specialized in birds and wildlife.
6.

A strong logistic team in the office to ensure our trip goes smoothly and every participant has a comfortable and memorable journey.
Dates & Prices
| Dates | Booking Status | Price | Single Supplement | Group Size | Guide |
| --- | --- | --- | --- | --- | --- |
| Jun 1-3, 2023 | Space Available | $1,100/pax | 50USD/pax | 8 | Local Guide |
Slide the sheet to the left to see the full sheet if you are viewing it on your phone or tablet.

The cost

includes

the following:
1. Private transportation throughout the trip, including airport drop-off at Urumqi Diwopu International Airport; I
nternal flight tickets between
Urumqi and
Korla.
2. All meals from lunch on day 1 to lunch on day 3.
3. All the entrance tickets for places listed in the itinerary including cable cars and shuttle buses.
4. Hotel stays from the first day to the last day, two clients occupy one twin-bed room on a sharing basis at nice 3 or 4-star hotels in big cities and local best guesthouses in remote areas.
5. Bottled water and snacks throughout the trip.
6. Simple western breakfast whenever possible.
7. Service charges of a professional bird guide throughout the whole trip.
8. China domestic travel insurance.
9. Service of all logistic supports.
The cost

does not include

the following:
b. Extra charges due to change of itinerary from the client's side or factors beyond the control of AlpineBirding such as natural disasters or governmental policy changes.
c. Discretionary tips to guides and drivers.
d. All personal expenses such as laundry service.
e.
ANY AIRFARE except those stated in the itinerary.
f. Any program not listed in the itinerary.
Itinerary
Tour Map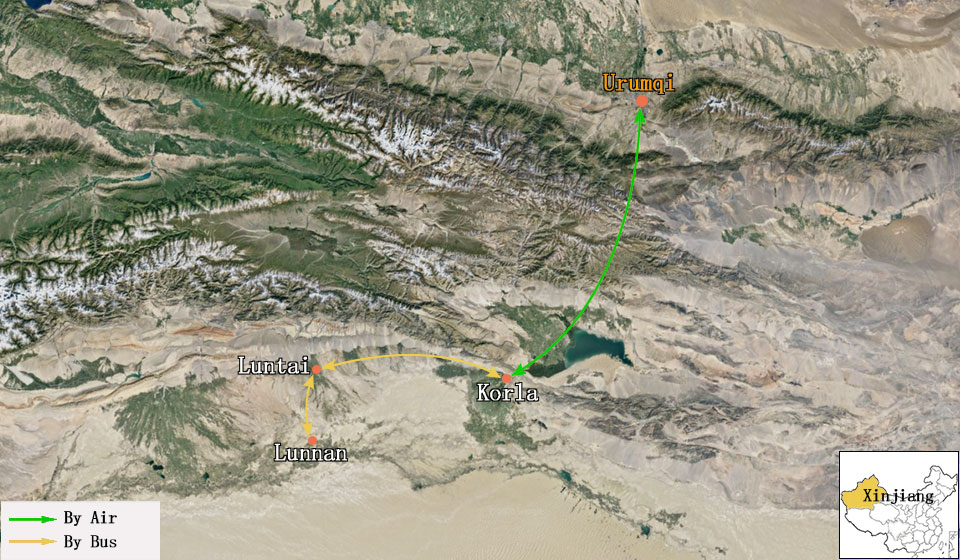 Day 1: Urumqi to Korla by air and drive to Luntai.
This morning, we will catch an early flight from Urumqi to Korla, then drive about 2 hours to Luntai. We will have several birding stops on the way.
Day 2: Luntai & surrounds (Lunnan).
Today we will visit Lunnan, as a small town in the south of Luntai County, there are some Euphrates poplar forests and deserts. We will spend the whole day birding in Lunnan to search for the endemic Xinjiang Ground Jay and Tarim Babbler. Other birds like Stock Dove, White-winged Woodpecker, Azure Tit, Booted Eagle, Saxaul Sparrow, Desert Wheatear, Desert Finch, etc., are also our targets.
Day 3: Luntai to Korla and fly back to Urumqi.
We will go birding around Lunnan in the early morning before driving back to Korla to catch our flight back to Urumqi. Depart from Urumqi, AlpineBirding services end. If you need to spend extra nights in Urumqi, please let us know in advance so that we can assist with the hotel booking.
Guide(s)
We will arrange one of our best local guides for this trip who has rich experiences of guiding tours in this region. The following are some of our best local guides in and around this area.

Philip He
As a half Kangba Tibetan, Philip is the main founder of AlpineBirding and is a native of Ganzi Tibetan Autonomous Prefecture. He has a deep love for his Kangba Tibetan heritage and the land where he was born and raised. Philip's career has gone from mining technician to a teacher, then a translator, and finally to a guide and tour operator. As a professional working in this field for more than 20 years, Philip believes travel is an art and a process of sharing and discovery. Each trip is a unique artistic work created with knowledge and expertise based on the resources available and the interests and tastes of travelers. To help more people to gain a lifetime birding and traveling experience, he established AlpineBirding with the aim to bring his professional, fun-filled tours to more people who are eager to explore birds and other beautiful attractions in China.


Bella Zhang
Bella, the director of AlpineBirding, graduated from Sichuan Agricultural University with a Bachelor's Degree. She joined AlpineBirding in early 2016 and became the director of AlpineBirding in 2018. She was born and grew up in a Bai ethnic family in Yunnan Province which boasts of the largest number of bird species in China. Her interests toward birds started with her observation of a Long-tailed Minivet in her mom's garden at a very young age. As she grows up, the interests and love toward birds become stronger and stronger. Because of that, she found AlpineBirding before graduation and joined the company for further learning of birds. Bella has guided a number of birding trips in cooperation with AlpineBirding guide in the past years, her passion, readiness to help and detail-oriented attitude have won her lots of praise from our clients.
Reports
We don't have a report available for this tour at this stage, please feel free to email us, we are more than happy to answer any of your questions and share the latest bird information with you.