Eastern Parrotbills Extension
This trip is an extension to our main trip of "In Pursuit of Parrotbills in China", the main trip covers about 14 parrotbills of Southwest China, while this extension covers two fascinating parrotbills in East China, namely the Short-tailed Parrotbill and Reed Parrotbill. We will also see some other interesting species like Pale Thrush, Gray-streaked Flycatcher, Asian Brown Flycatcher, Blue-and-white Flycatcher, Narcissus Flycatcher, Siberian Blue Robin, Bluethroat, Hair-crested Drongo, Japanese Paradise Flycatcher, etc
Tour Info Sheet
| | |
| --- | --- |
| Highlight Birds | Short-tailed Parrotbill, Reed Parrotbill, Grey-headed Parrotbill, Vinous-throated Parrotbill, Chinese Bamboo-Partridge, Grey-capped Woodpecker, Great Spotted Woodpecker, Yellow-bellied Tit, Chinese Penduline Tit, Chestnut Bulbul, Mountain Bulbul, Rufous-faced Warbler, Indochinese Yuhina, Huet's Fulvetta, Gray-backed Thrush, Pale Thrush, Meadow Bunting, Chestnut-eared Bunting, Yellow-throated Bunting, Pallas's Bunting, etc. |
| Numbers of Species to Expect | 70-100 |
| Ease of Birding | mostly easy birding with a few tricky species |
| Photography Opportunities | birding focused but with very good photography chances |
| Habitats Covered | subtropical forests, wetlands, coast |
| Expected Climate | mostly comfortable, cold and windy on the coast |
| Physical Requirements | mostly easy, moderate but optional in certain parts |
| Accommodation | very comfortable |

What makes this trip irreplaceable?

1.

This trip focuses on the parrotbills in East China in which you have the best chance of seeing Short-tailed Parrotbill and Reed Parrotbill. We run the trip during the mating season when our targets are most active.
2.

Our experienced guides have guided birding tours in these areas many times, they have great knowledge about local birds and birding sites with good access to the latest bird info. At the same time, they have rich experiences of guiding birders from different countries and understand your needs well.
3.

A small group size of no more than 8 birders.
4.

Years of working as a local partner for some prestigious western companies specialized in birds and other wildlife.
5.

A strong logistic team in the office to ensure our trip goes smoothly and every participant has a comfortable and memorable journey.
Dates & Prices
| Dates | Booking Status | Price | Single Supplement | Group Size | Guide |
| --- | --- | --- | --- | --- | --- |
| Apr 8-11, 2022 | Space Available | 1,400USD/pax | 95USD/pax | 8 | Local Guide |
Slide the sheet to the left to see the full sheet if you are viewing on your phone or tablet.

The cost

includes

the following:
1. Private transportation throughout the trip, including airport pick-up in Hangzhou and drop-off in Shanghai; I
nternal flight ticket as listed in the itinerary.
2. All meals from lunch on day 1 to breakfast on day 4.
3. All the entrance tickets for places listed in the itinerary including cable cars and shuttle buses.
4. Hotel stays from the first day to the last day, two clients occupy one twin-bed room on a sharing basis at nice 3 or 4 star hotels in big cities and local best guesthouses in the remote areas.
5. Bottled water and snacks throughout the trip.
6. Simple western breakfast whenever is possible.
7. Service charges of a professional bird guide throughout the whole trip.
8. China domestic travel insurance.
9. Service of all logistic supports.
The cost

does not include

the following:
b. Extra charges due to change of itinerary from the client's side or factors beyond the control of AlpineBirding such as natural disaster or governmental policy change.
c. Discretionary tips to local guides and drivers.
d. All personal expenses such as laundry service.
e.
ANY AIRFARE except those stated in the itinerary.
f. Any program not listed in the itinerary.
Itinerary
Tour Map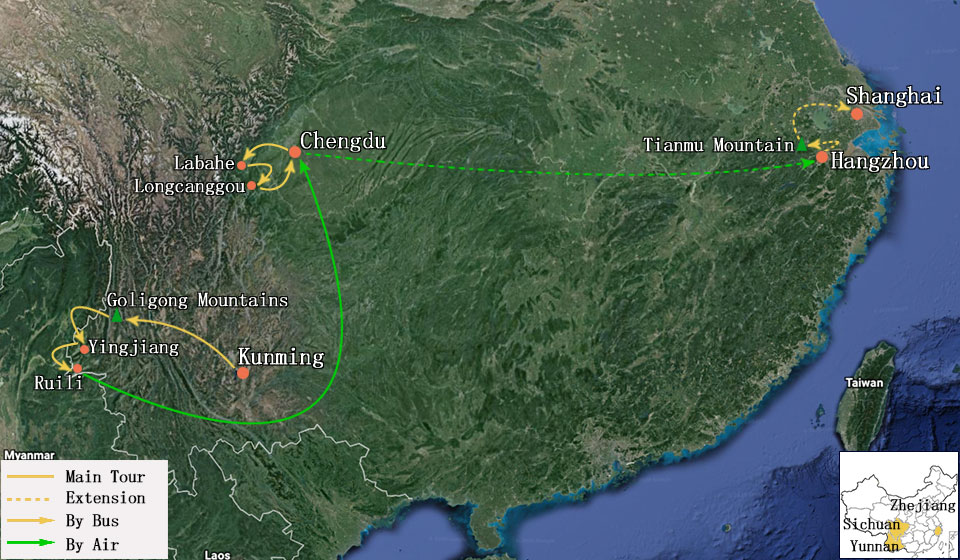 Day 1. Fly from
Chengdu
to Hangzhou, then drive to Tianmu Mountain.
After checking out our hotel in Chengdu, we will drive to Shuangliu Airport to catch our flight to Hangzhou, then drive about 2 hours to Tianmu Mountain. We will go birding around the hotel upon arrival.
Tianmu Mountain has a typical mid-subtropical forest ecosystem that is home to a lot of specials in eastern China. It has the most records of Short-tailed Parrotbill. We will spend most of the day here in search of this target. In the meantime, we can also expect Grey-headed Parrotbill, Vinous-throated Parrotbill, Chinese Bamboo-Partridge, Grey-capped Woodpecker, Great Spotted Woodpecker, Yellow-bellied Tit, Chestnut Bulbul, Mountain Bulbul, Rufous-faced Warbler, Indochinese Yuhina, Huet's Fulvetta, Meadow Bunting, etc.
Day 3.
Tianmu Mountain to
Nanhui Dongtan.
We will spend the morning in Tianmu Moutain to search for our targets again. After that, we will finish a 4-hour journey to Nanhui Dongtan.
As a vital supply depot for many bird species migrating between eastern Asia and Australia, the numerous ponds, farmlands, reeds clusters, and other wetlands plants have made Nanhui Dongtan a paradise for residents and migratory birds. We will search for Reed Parrotbill and Vinous-throated Parrotbill in the nearby forests and bushes, other sought-after species we may encounter including Chinese Blackbird, Gray-backed Thrush, Pale Thrush, Gray-streaked Flycatcher, Asian Brown Flycatcher, Blue-and-white Flycatcher, Narcissus Flycatcher, Siberian Blue Robin, Bluethroat, Hair-crested Drongo, Japanese Paradise Flycatcher, Tiger Shrike, Brown Shrike, Chinese Penduline Tit, Light-vented Bulbul, Pallas's Leaf Warbler, Dusky Warbler, Pale-legged Leaf Warbler, Sakhalin Leaf Warbler, Manchurian Bush Warbler, Chestnut-eared Bunting, Yellow-throated Bunting, Pallas's Bunting, etc.
The mudflats and wetlands here are worth spending some time on. We will mainly look for waterfowls and waders including Falcated Duck, Garganey, Tufted Duck, Common Pochard, Great Crested Grebe, Black-winged Stilt, Black-bellied Plover, Lesser Sand Plover, Greater Sand Plover, Little Ringed Plover, Kentish Plover, Eurasian Curlew, Little Curlew, Bar-tailed Godwit, Great Knot, Broad-billed Sandpiper, Sharp-tailed Sandpiper, Long-toed Stint, Red-necked Stint, Terek Sandpiper, Spotted Redshank, Wood Sandpiper, Oriental Pratincole, Black-tailed Gull, Little Tern, Gull-billed Tern, White-winged Tern, Great Bittern, Purple Heron, Chinese Pond Heron, Eurasian Spoonbill, Black-faced Spoonbill, Marsh Grassbird, Oriental Reed Warbler, Plain Prinia, Zitting Cisticola, etc.
Day 4. Departure from
Shanghai
.
Following a lovely breakfast at the hotel, you will be transferred to the airport to depart from Shanghai. This will conclude the services for this scheduled itinerary from AlpineBirding.
Guide(s)
We will arrange one of our best local guides for this trip who has rich experiences of guiding tours in this region. The followings are some of our professional guides who have guided tours in this area for many years.

Philip He
As a half Kangba Tibetan, Philip is the main founder of AlpineBirding and is a native of Ganzi Tibetan Autonomous Prefecture. He has a deep love for his Kangba Tibetan heritage and the land where he was born and raised. Philip's career has gone from mining technician to a teacher, then a translator, and finally to a guide and tour operator. As a professional working in this field for more than 20 years, Philip believes travel is an art and a process of sharing and discovery. Each trip is a unique artistic work created with knowledge and expertise based on the resources available and the interests and tastes of travelers. To help more people to gain a lifetime birding and traveling experience, he established AlpineBirding with aims to bring his professional, fun-filled tours to more people who are eager to explore birds and other beautiful attractions in China.


Shay Xie
Shay is among the first group of professional bird guides with the academic background of ornithology. He spent his childhood in a small county of Chongqing municipality where is the eastern edge of the Daba Mountains. Being brought up in a beautiful natural environment and surrounded by beautiful nature creatures, Shay has developed a strong interest in nature and birds since he was a small kid. Following the call from his inner heart, he chose to study ecology as his major when he was admitted to Sichuan University. The campus of Sichuan University itself is one of the most famous birding sites in Sichuan and he spent most of his afterschool time birding there. Since that time he started working as a part-time bird guide. By now, he has successfully guided many avid birders from different countries including Norway, Britain, the US, Russia, Thailand, Israel, etc.
Reports
We don't have a report available for this tour at this stage, please feel free to email us, we are more than happy to answer any of your questions and share the latest bird information with you.