Sichuan Red Panda & Parrotbills Extension
This trip is an extension to the 15 days "Sichuan Birding & Wildlife Safari" which covers two fascinating sites namely Labahe Nature Reserve and Longcanggou Forest Park. Labahe is by far the most reliable place to try the spectacular Red Panda. Besides, by visiting these two places, we can encounter some unique parrotbills and forest species such as Gold-fronted Fulvetta, Emei Shan Liocichla, Golden-breasted Flvetta, David's Flvetta, Sichuan Leaf Warbler, etc.
Tour Info Sheet
| | |
| --- | --- |
| Highlight Birds | Fulvous Parrotbill, Vinous-throated Parrotbill, Brown Parrotbill, Ashy-throated Parrotbill, Great Parrotbill, Three-toed Parrotbill, Grey-hooded Parrotbill, Golden Parrotbill, Gold-fronted Fulvetta, Emei Shan Liocichla, etc. |
| Numbers of Species to Expect | 70-100 |
| Ease of Birding | mostly easy birding with a few tricky species |
| Highlight Mammals | Tibetan Macaque, Red Panda, Sambar, Chinese Goral, Red and White Giant Flying Squirrel |
| Other Attractions | wild panda habitat, delicate food |
| Photography Opportunities | birding focused but with very good photography chances |
| Habitats Covered | subtropical forests, woodlands |
| Expected Climate | mostly comfortable, rain is possible |
| Physical Requirements | mostly easy, demanding but optional in certain parts |
| Accommodation | very comfortable |
| Transportation | 19-seat van |

What makes this trip irreplaceable?

1. Nice chances for the rare Red Panda.
2. Some unique endemics like Three-toed Parrotbill, Grey-hooded Parrotbill, Emei Shan Liocichla, etc.
3. Experienced guides with great knowledge about local mammals and birds who also have rich experiences of guiding travelers from different countries and understand their needs well.
4. A small group size of no more than 8 travelers.

5. Years of working as a local partner for some prestigious western companies specialized in birds and wildlife.

6. A strong logistic team in the office to ensure our trip goes smoothly and every participant has a comfortable and memorable journey.
Gallery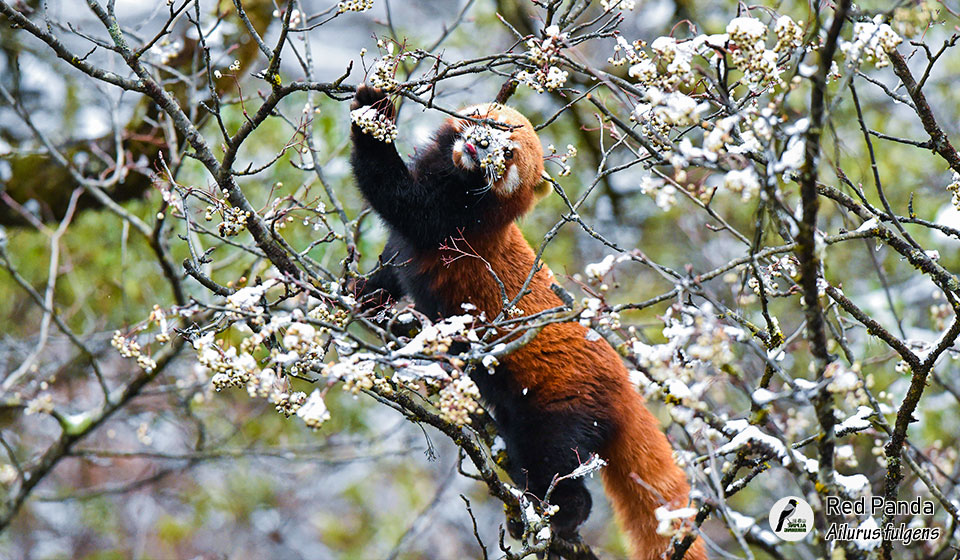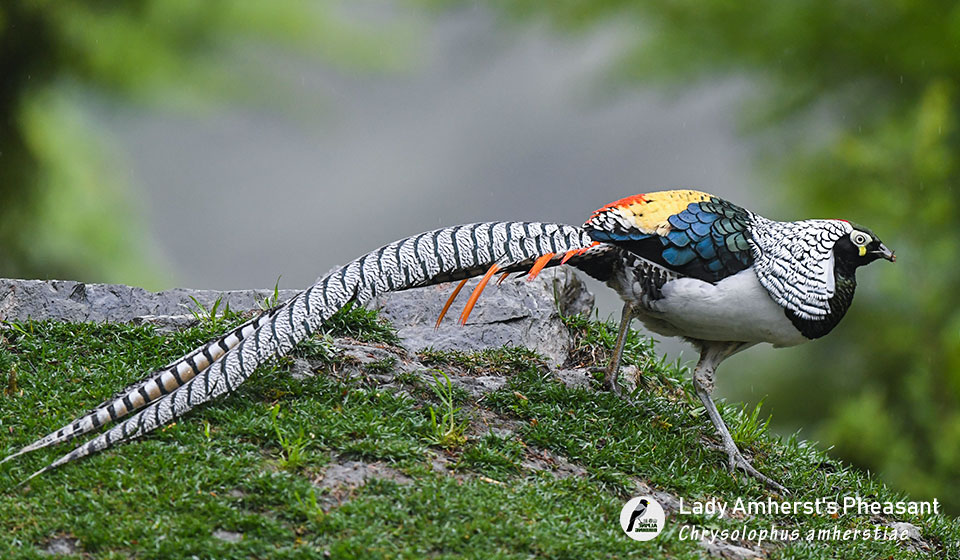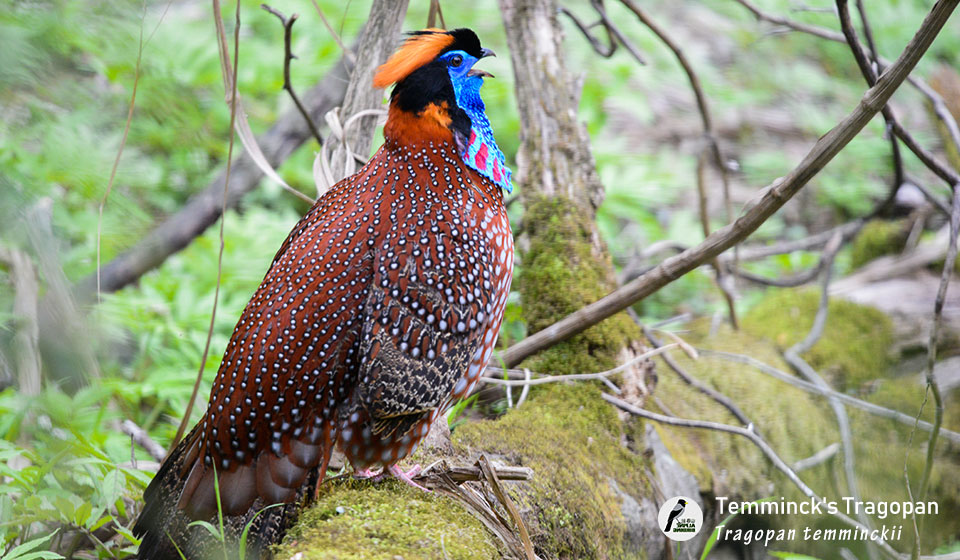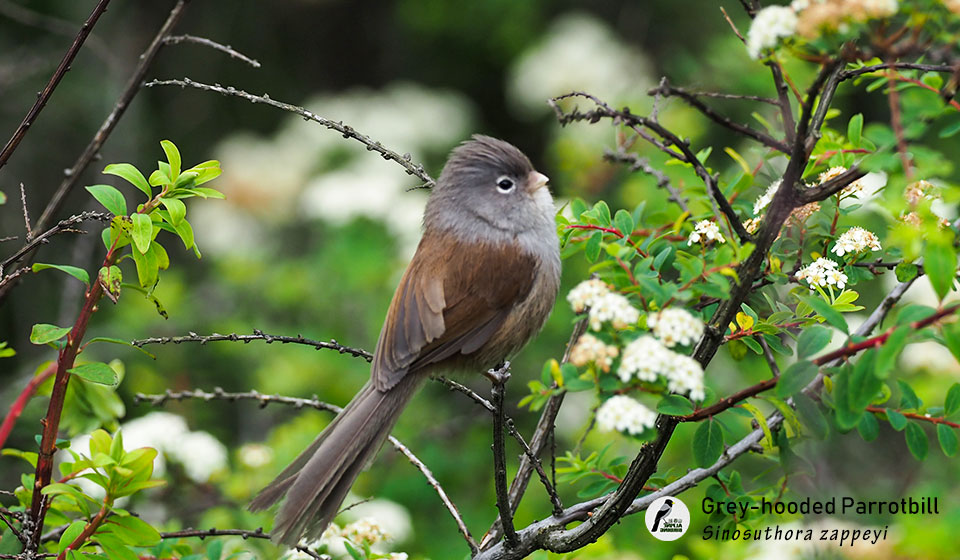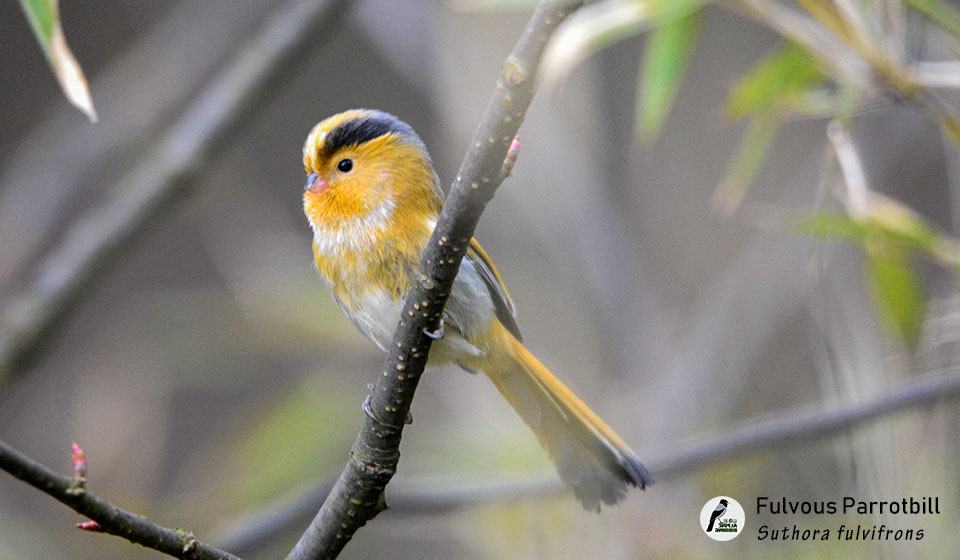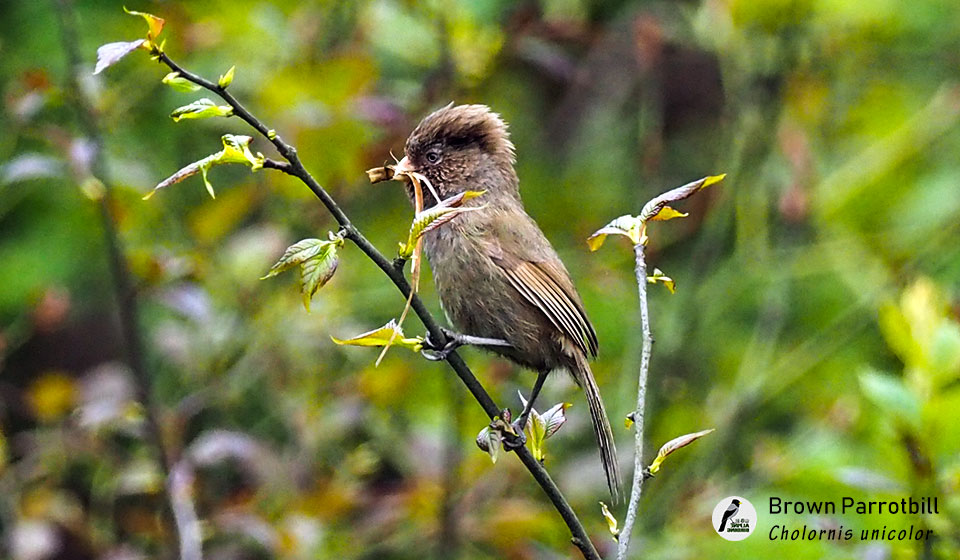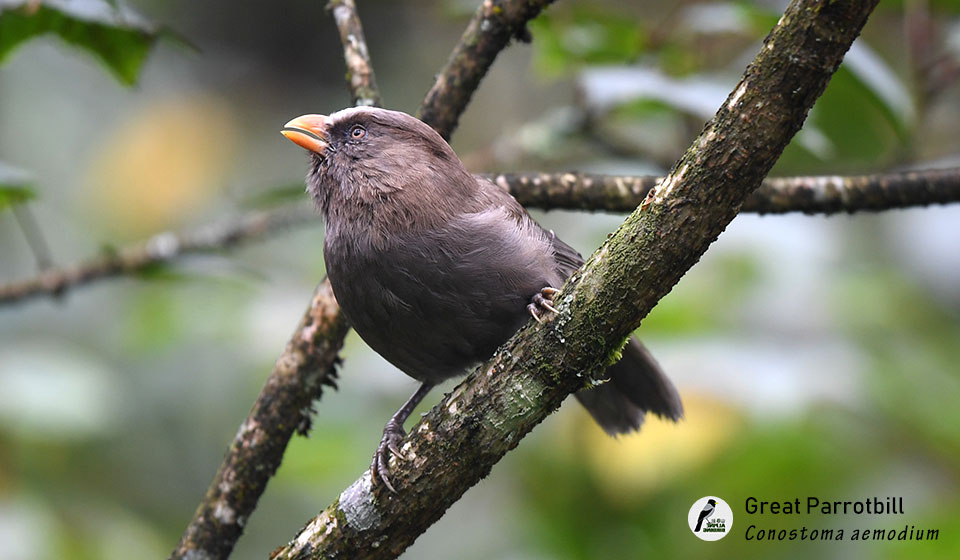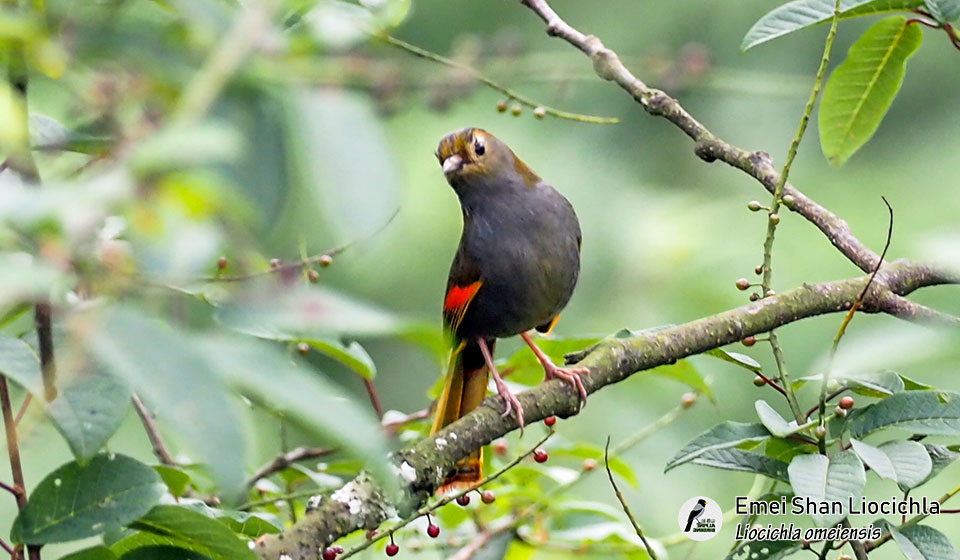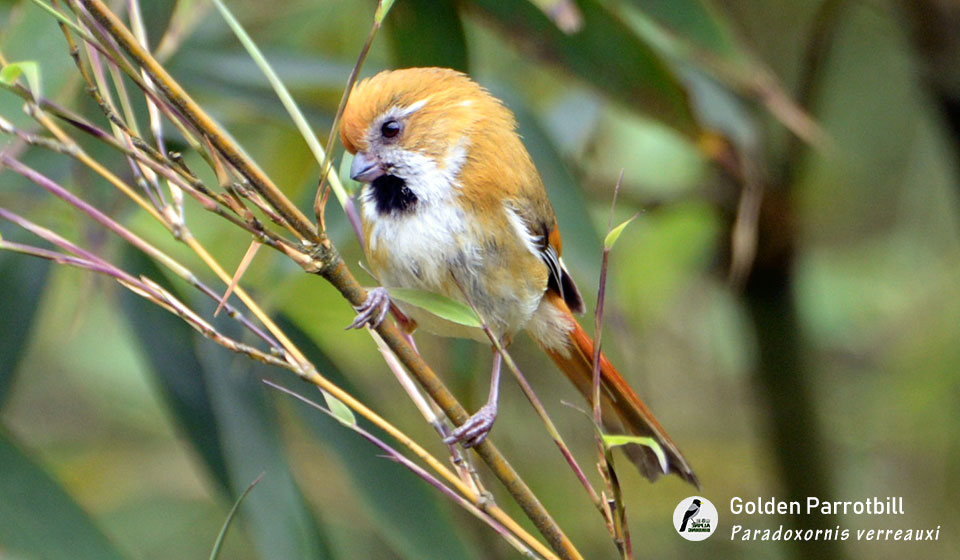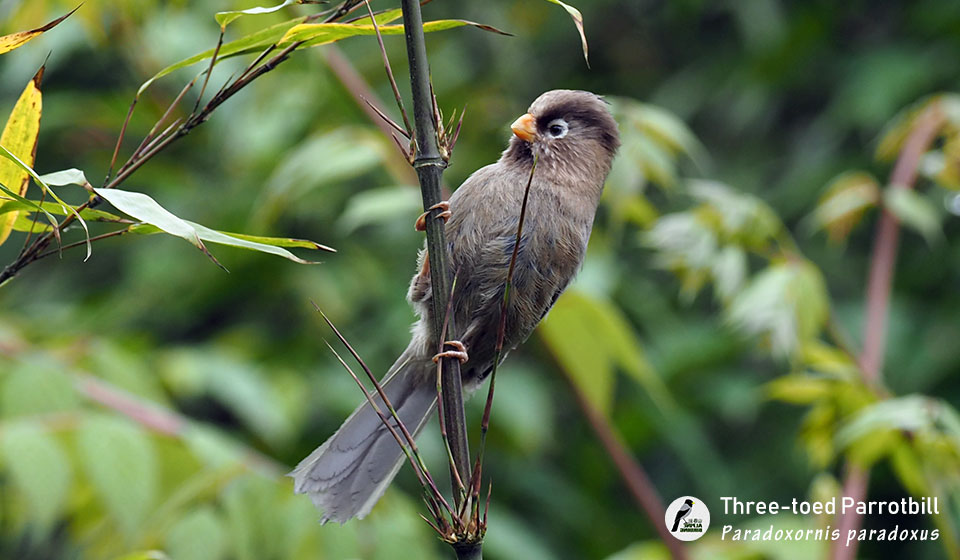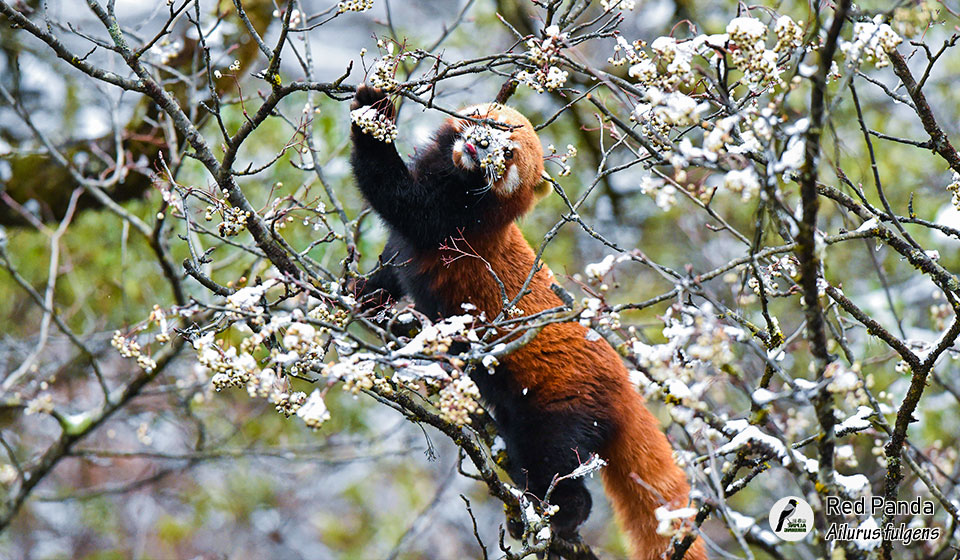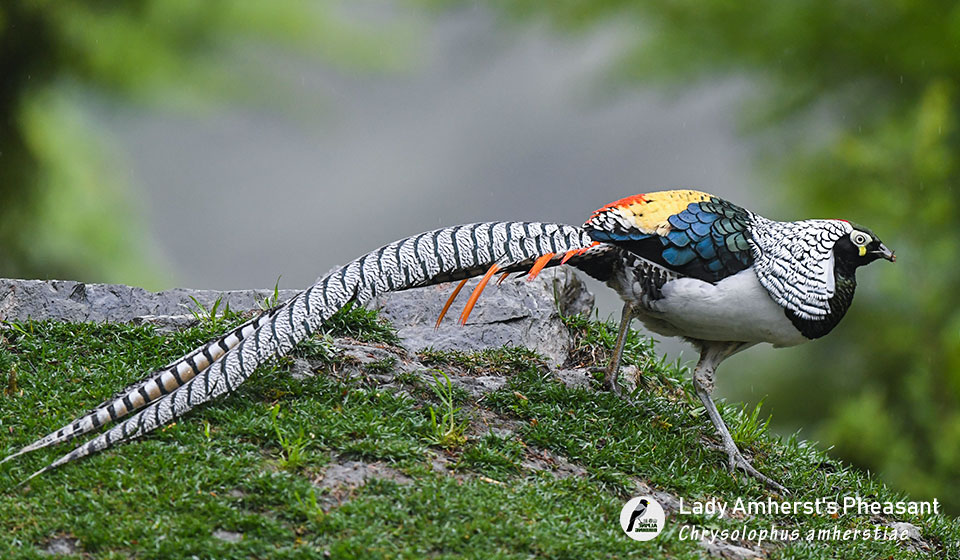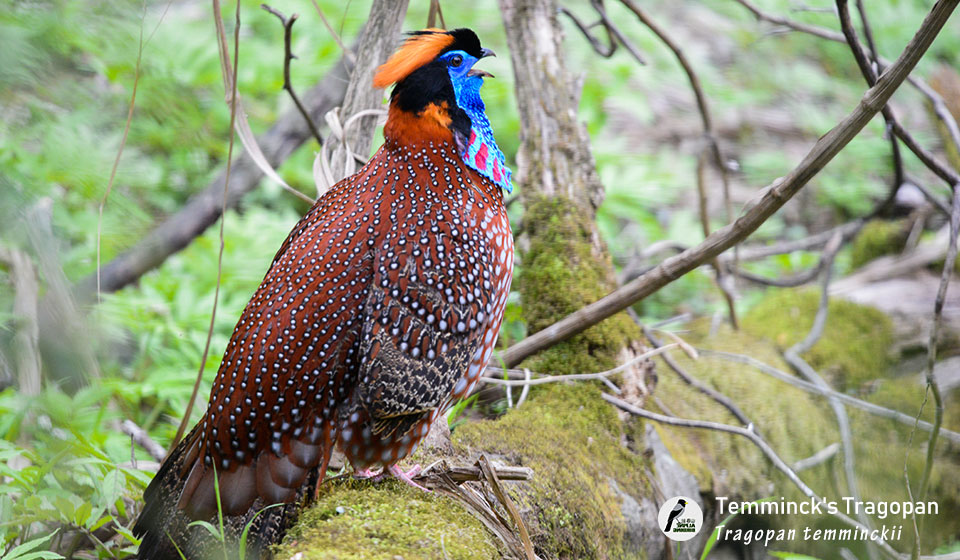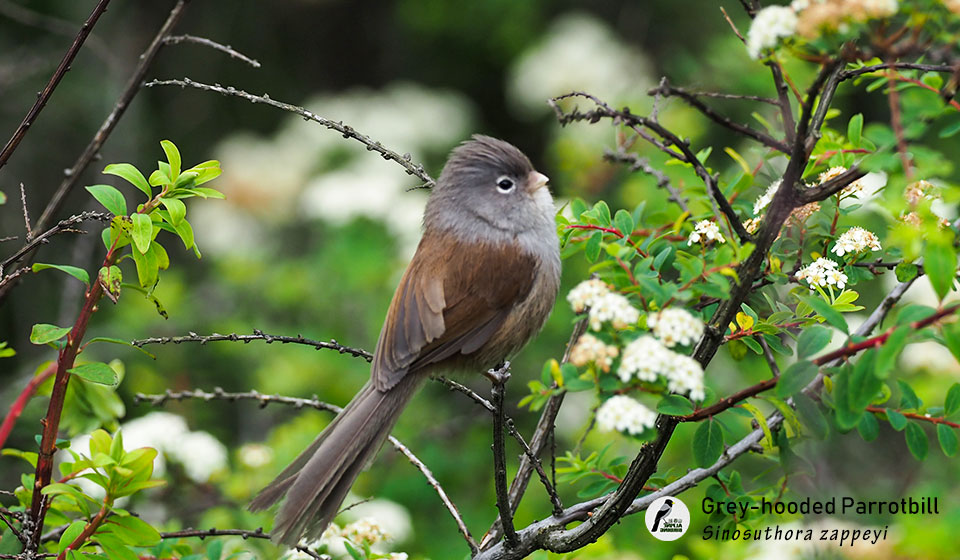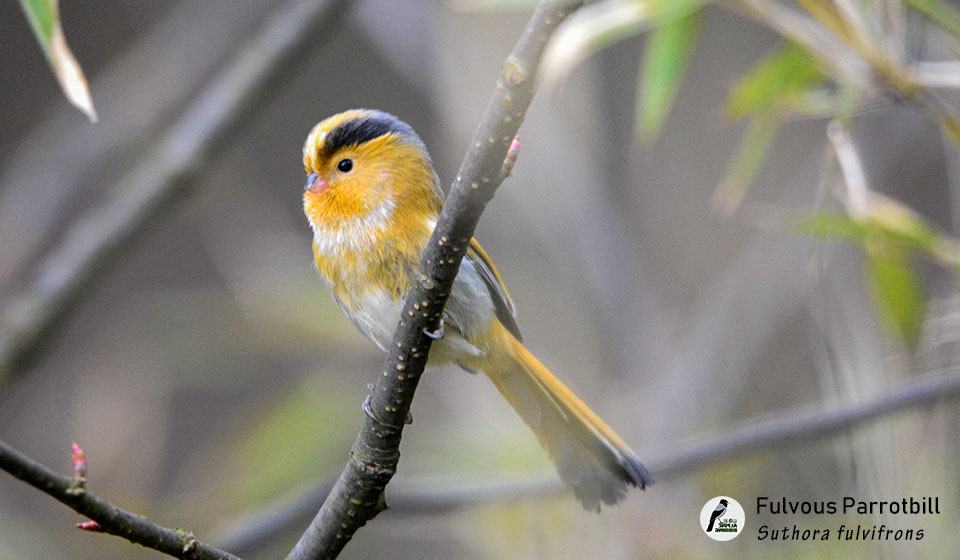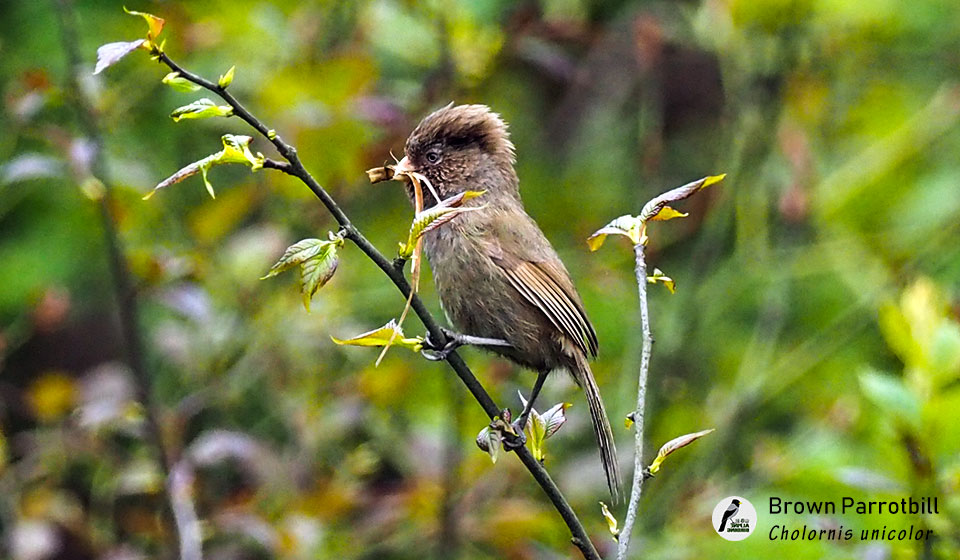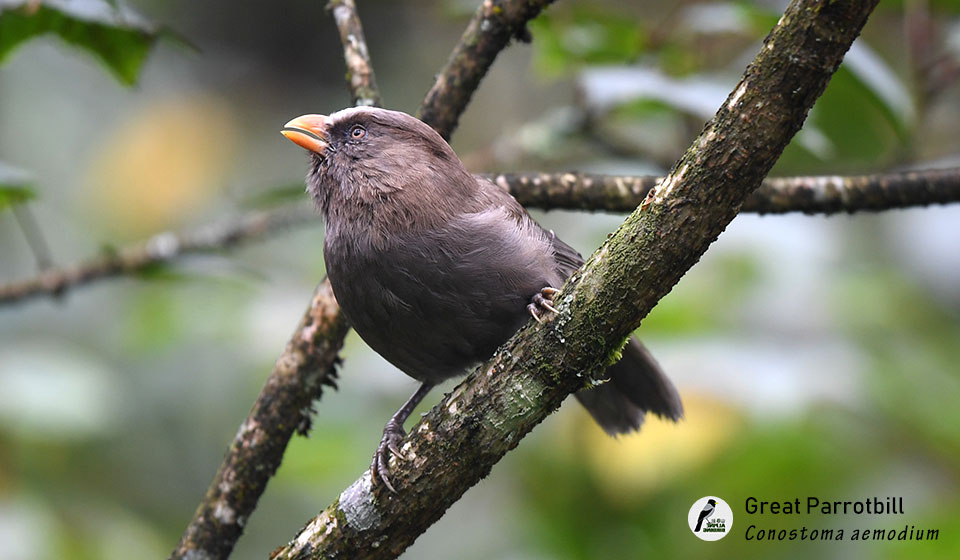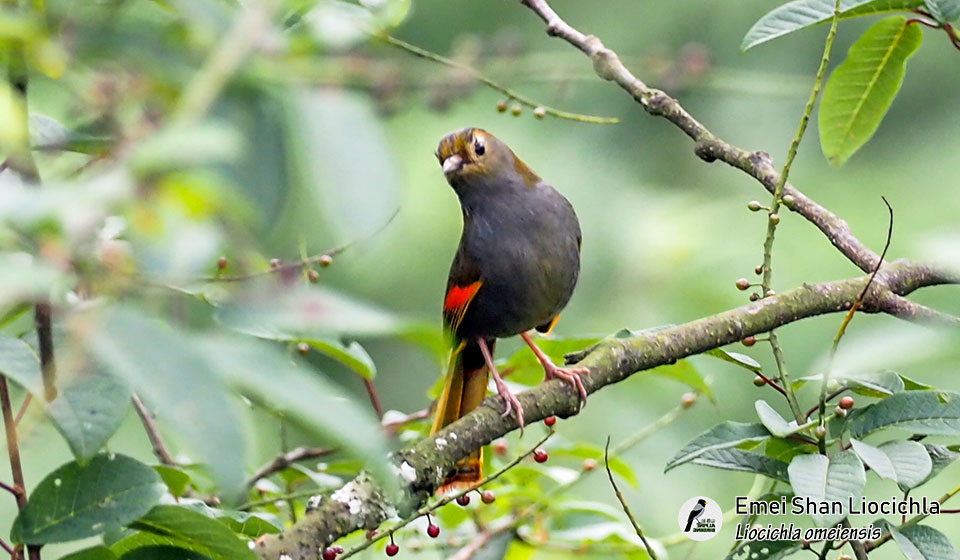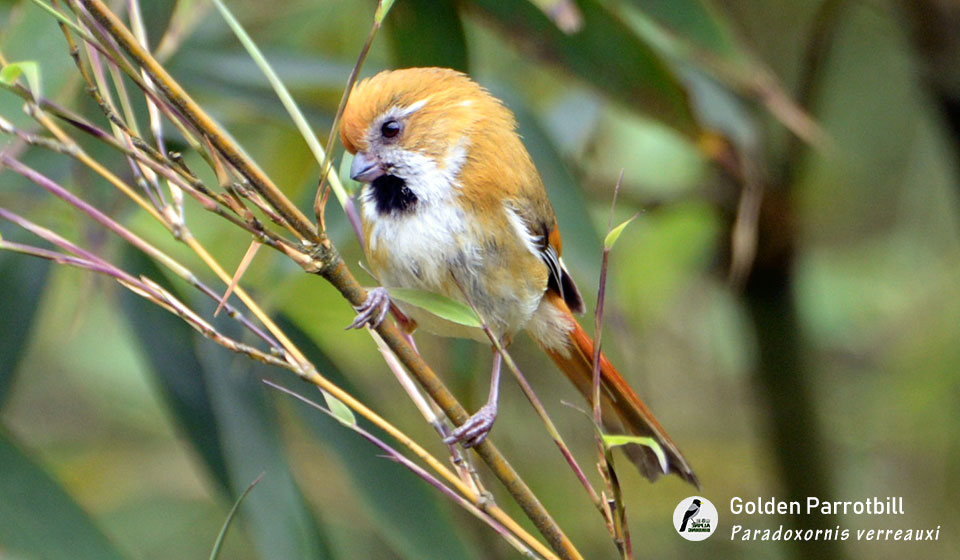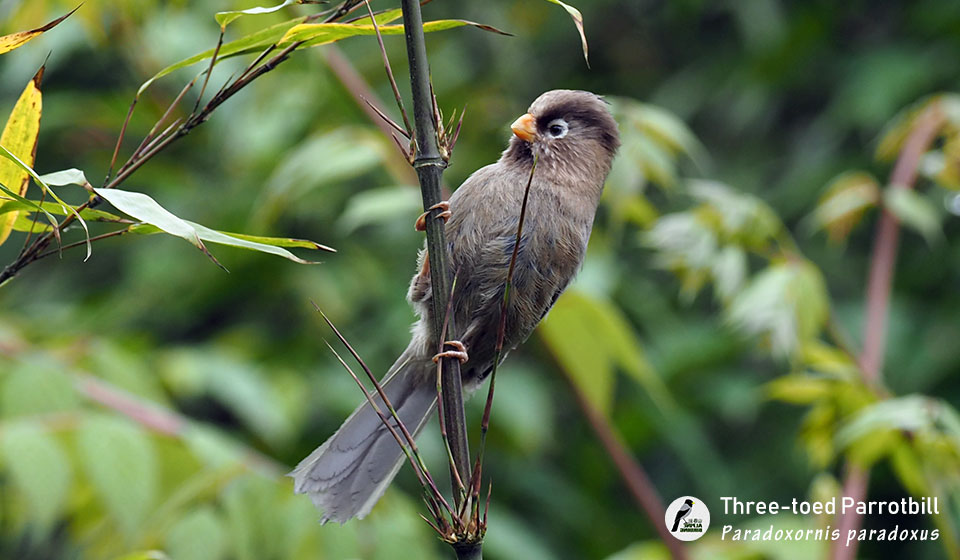 Dates & Prices
| Dates | Booking Status | Price | Single Supplement | Group Size | Guides |
| --- | --- | --- | --- | --- | --- |
| Apr 22-28, 2022 | Space Available | 1,780USD/pax | 225USD/pax | 8 | Steve Potter & Local Guide |
Slide the sheet to the left to see the full sheet if you are viewing on your phone or tablet.

The cost

includes

the following:
1. Private transportation throughout the trip, including airport drop-off at Chengdu Shuangliu International Airport or Tianfu International Airport.
2. All meals from lunch on day 1 to breakfast on day 7.
3. All the entrance tickets for places listed in the itinerary including cable cars and shuttle buses.
4. Hotel stays from the first day to the last day, two clients occupy one twin-bed room on a sharing basis at nice 3 or 4 star hotels in big cities and local best guesthouses in remote areas.
5. Bottled water and snacks throughout the trip.
6. Simple western breakfast whenever is possible.
7. Service charges of a professional western bird guide and an experienced local bird guide throughout the whole trip.
8. China domestic travel insurance.
9. Service of all logistic supports.
The cost

does not include

the following:
b. Extra charges due to change of itinerary from the client's side or factors beyond the control of AlpineBirding such as natural disaster or governmental policy change.
c. Discretionary tips to guides and drivers.
d. All personal expenses such as laundry service.
e.
ANY AIRFARE except those stated in the itinerary.
f. Any program not listed in the itinerary.
Itinerary
Tour Map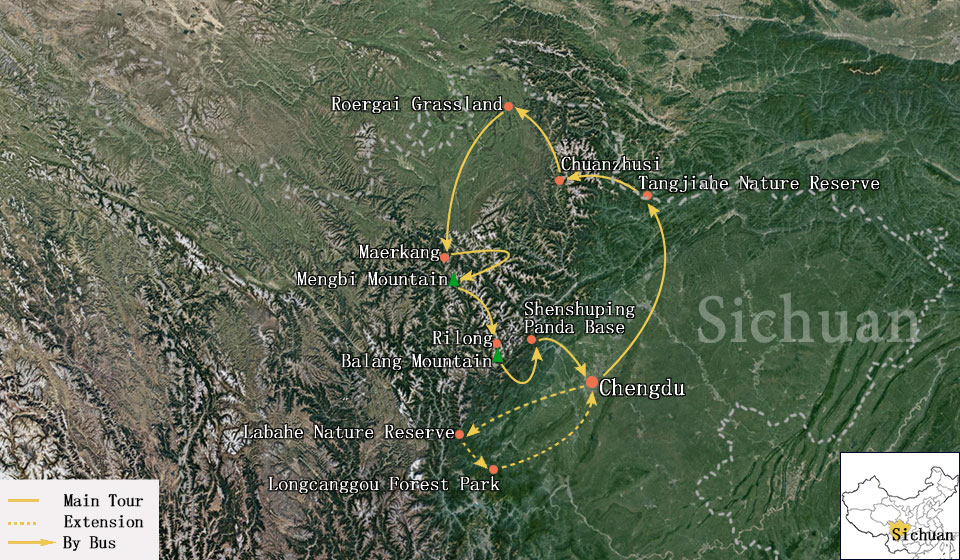 Day 1: Chengdu to Labahe via Qinglong Lake.
We will have a short visit to Qinglong Lake in search of Chinese Bamboo Partridge before driving to the Labahe area. Besides the partridge, we can find some urban and special resident birds here, such as Vinous-throated Parrotbill, Chinese Bulbul, White-browed Laughingthrush, Red-billed Leiothrix, Japanese White-eye, Chinese Blackbird, Chinese Grosbeak, Collared Finchbill, Long-tailed Shrike, Fork-tailed Sunbird, Hoopoe, etc.
Following the exploration, we will complete a 4-hour journey to Labahe. Upon arrival, we will go birding around the hotel to look for some low elevation species, including Red-billed Blue Magpie, White-capped Water Redstart, Plumbeous Water Redstart, Collared Finchbill, Elliot's Laughingthrush, etc. We may encounter Tibetan Macaque around the hotel. After dinner, we will go out for a night walk, we can expect Chinese Goral, Red and White Giant Flying Squirrel, etc.
Day 2: Labahe Nature Reserve.
Sitting at the edge of the Hengduan Mountain Range, Labahe Nature Reserve is an important panda habitat and by far one of the best locations in China to find Red Panda and some other stunning mammals, such as Tibetan Macaque, Sambar, Masked Palm Civet, Red and White Flying Squirrel, etc. The mixed alpine forest and dense bamboo understory make an ideal habitat for the Red Panda, though it will still require a good amount of hard work and patience to find one. We will walk on the paved road and search both sides and the rugged mountains surrounded carefully.
Labahe is also a good birding site where we can find some interesting species including Lady Amherst's Pheasant, Fulvous Parrotbill, Golden-breasted Flvetta, David's Flvetta, Sichuan Leaf Warbler, etc.
Day 3: Labahe to Longcanggou Forest Park.
We will spend the morning in Labahe to try our targets again. After our exploration, we will drive on and finish our 3-hour journey to Longcanggou. We will go birding around the guesthouse looking for Ashy-throated Parrotbill, Hwamei, Red-billed Leiothrix, Oriental Greenfinch, etc.
Day 4- 5: Longcanggou Forest Park.
Located on the western edge of the Sichuan Basin, Longcanggou sets in the core area of the transition zone between the basin and the Qinghai-Tibet Plateau. The special location makes the geological structures here very diverse. One of the densest subtropical evergreen broad-leaved forests is found here and it is home to a lot of range-restricted and endemic species.
For pheasants, we can expect Temminck's Tragopan and Lady Amherst's Pheasant here. Despite this, in the lush bamboo forest of high elevation, we will look for Great Parrotbill, Brown Parrotbill, Three-toed Parrotbill, Grey-hooded Parrotbill, Golden Parrotbill, Emei Shan Liocichla, Grey-hooded Fulvetta, Golden-breasted Fulvetta, Red-winged Laughingthruhrush, Spotted Laughingthrush, Black-faced Laughingthrush, Darjeeling Woodpecker, Vinaceous Rosefinch, White-throated Needletail, Coal Tit, Fire-capped Tit, Ashy-throated Warbler, Sichuan Leaf Warbler, Emei Leaf Warbler, Large-billed Leaf Warbler, Yellowish-bellied Bush Warbler, Aberrant Bush Warbler, etc.
In the broadleaf forest of lower elevation, we will look for Gold-fronted Fulvetta, David's Fulvetta, Crimson-breasted Woodpecker, Speckled Piculet, Yellow-browed Tit, Yellow-bellied Tit, Black-throated Tit, Sichuan Bush Warbler, Pygmy Cupwing, Black Bulbul, Emei Leaf Warbler, Chestnut-crowned Warbler, Brownish-flanked Bush Warbler, Rufous-capped Babbler, Red-billed Leiothrix, Red-tailed Minla, Blue-winged Minla, Ferruginous Flycatcher, Snowy-browed Flycatcher, Taiga Flycatcher, Brown Bullfinch, etc.
Day 6: Longcanggou Forest Park to Chengdu.
Continuing our exploration in Longcanggou in the early morning. Afterward, we will drive back to Chengdu.
Day 7: Departure from Chengdu.
Following a lovely breakfast at the hotel, you will be transferred to the airport to depart from Chengdu. This will conclude the services for this scheduled itinerary from AlpineBirding.
Guide(s)

As early as in Steve's teenage, he already developed a passion for birds and wildlife while visiting his parents in central Africa. Since then, he spent over 40 years traveling and going to bird throughout Africa, Australia, South East Asia, UK, America, and the Middle East. 17 years ago, Steve decided to share all his birding experience and bird knowledge to the bird lovers and nature lovers by working as a birding guide. His previous experience helps him become an outstanding birding guide and tour leader. So far, Steve has been active as a professional bird guide throughout Australia and working as tour leader with local expert bird guides in South East Asia. Also, Steve has extensive interests in everything may show up during traveling including the mammals, cultures, he is willing to share all of it with the clients.
Besides, one of AlpineBirding's local guides in Southwest China will participate in this trip to ensure a high-end birding experience.
Reports
We don't have a report available for this tour at this stage, please feel free to email us, we are more than happy to answer any of your questions and share the latest bird information with you.
Testimonials
Wonderful Birding trip with AlpineBirding

On November 2019 we had an amazing birding trip to Sichuan area with AlpineBirding.

We went for 6 days to Wolong, Longcanggou and Labahe, and thanks to Shay, our guide, we manage to see many beautiful birds in an incredible scenery.

One of the highlights were 4 different Red Pandas that gave us amazing view!!!

You can't go wrong with AlpineBirding and I can highly recommend to travel in Sichuan and china with them, and I hope to do that again myself.

Yohay Wasserlauf / Western Sichuan

October 13, 2019