Lhasa Birding & Culture Exploration
Lhasa, known as the "Highland Pearl" on the "Third Pole", is the cultural and religious center for all Tibetan people. The city boasts of numerous significant cultural sites and extraordinary architectures such as the Potala Palace, Jokhang Temple, Drepung Monastery, and Norbulingka Palace.

Lhasa is also an excellent place searching for region-restricted species. Behind the majestic Potala Palace, we can search for Tibetan Black Bird, Ruddy Shelduck, Common Merganser, and Common Rosefinch. While Norbulingka Park is the best place to find Lord Derby's Parakeet. Driving out of the city to a special mountain slope, we can search for the iconic Tibetan Eared Pheasant. There are flocks of them lingering in the shrubs around a small nunnery. Here you can see the power of belief, the teaching of Tibetan Buddhism has created a small paradise where birds and people co-exist harmoniously for hundreds of years. Here we can also search for some other birds like Tibetan Partridge, Tibetan Babax, Brown-cheeked Laughingthrush, and Common Rosefinch.

Tour Info Sheet
Highlight Birds

Tibetan Eared Pheasant, Tibetan Snowcock, Tibetan Partridge, Tibetan Blackbird, Giant Babax, Lord Derby's Parakeet, White-browed Tit Warbler, Himalayan Beautiful Rosefinch, Streaked Rosefinch, Common Rosefinch, Brown-cheeked Laughingthrush, Plain Laughingthrush, Black-necked Crane, Bar-headed Goose, Common Merganser, Pallas's Gull, etc.

Numbers of Species to Expect
50-100
Ease of Birding
mostly easy
Other Attractions
Tibetan culture, Potala Palace, Jokhang Monastery,

Norbulingka Palace

, Xiongse Nunnery (Temple)
Photography Opportunities
birding focused but with very good photography chances
Habitats Covered
alpine shrubs, wetlands, coniferous forests
Expected Climate
windy and cold in the morning, strong sunlight in the daytime
Physical Requirements
moderate walk at high altitude
Accommodation
comfortable
Transportation
15 to 20-seat van
What makes this trip irreplaceable?
1.

The combination of our experienced western guides and local guides ensures your needs are well met.
2.

See some of the most extraordinary plateau specials in the most popular and classic birding sites of the plateau.
3.

Visiting the world-renowned Potala Palace, Jokhang Monastery, etc.
4.

We run the trip in the best season. Not only birds are in the breeding seasons, but all the destinations have the most beautiful sceneries in this season.
5.

A small group size of no more than 8 birders.
6.

Years of working as a local partner for some prestigious western companies specialized in birds and other wildlife.
7.

A strong logistic team in the office to ensure our trip goes smoothly and every participant has a comfortable and memorable journey.
Gallery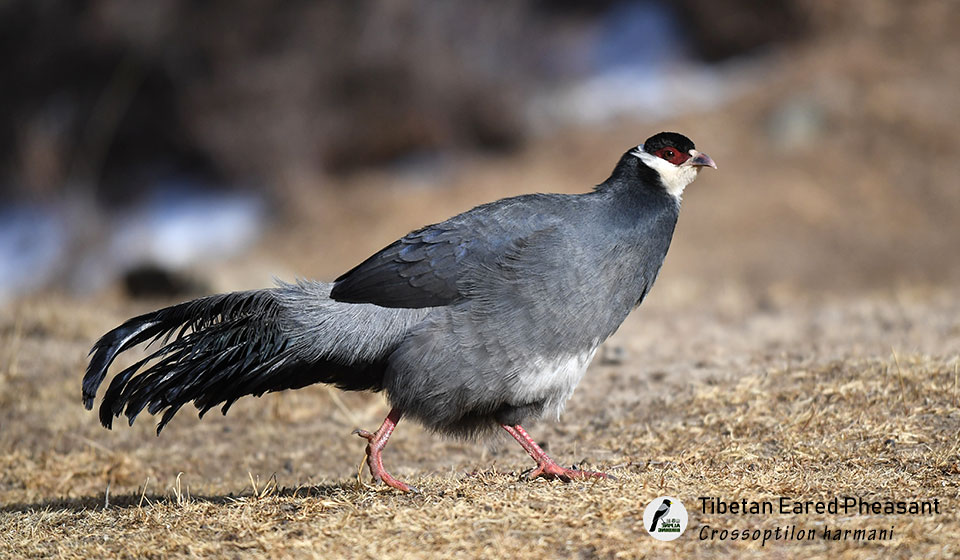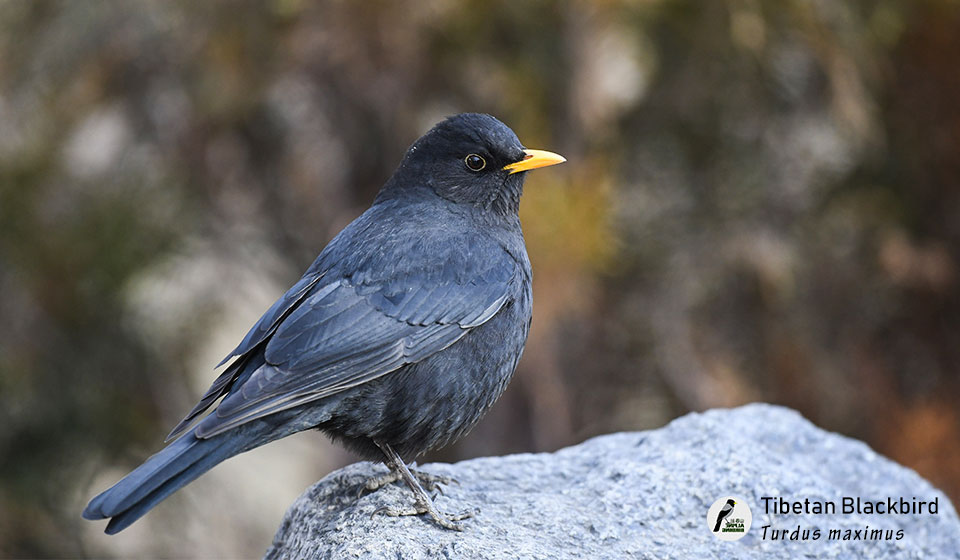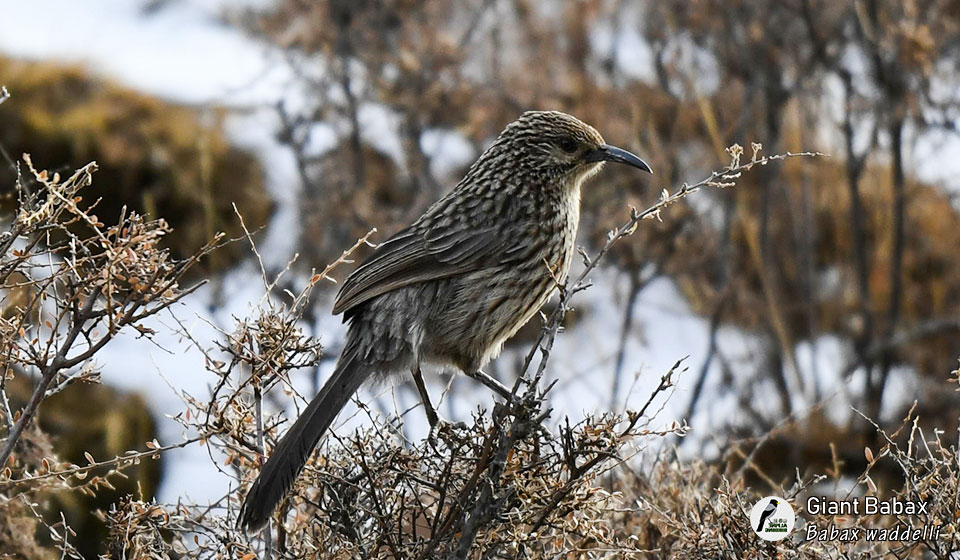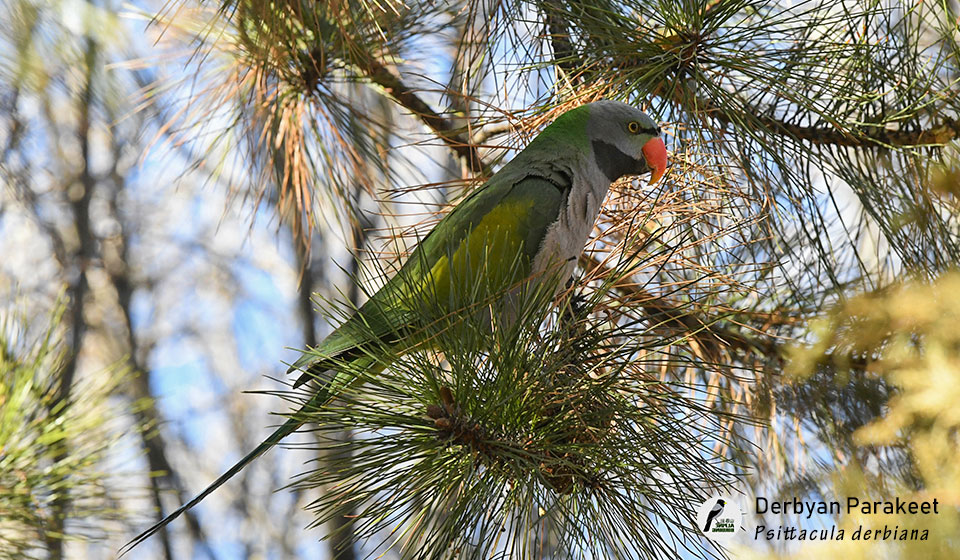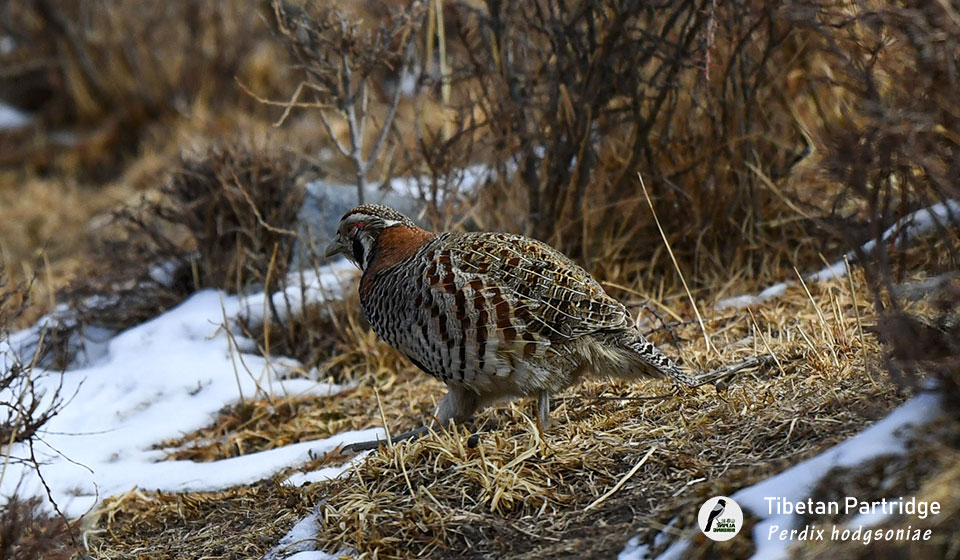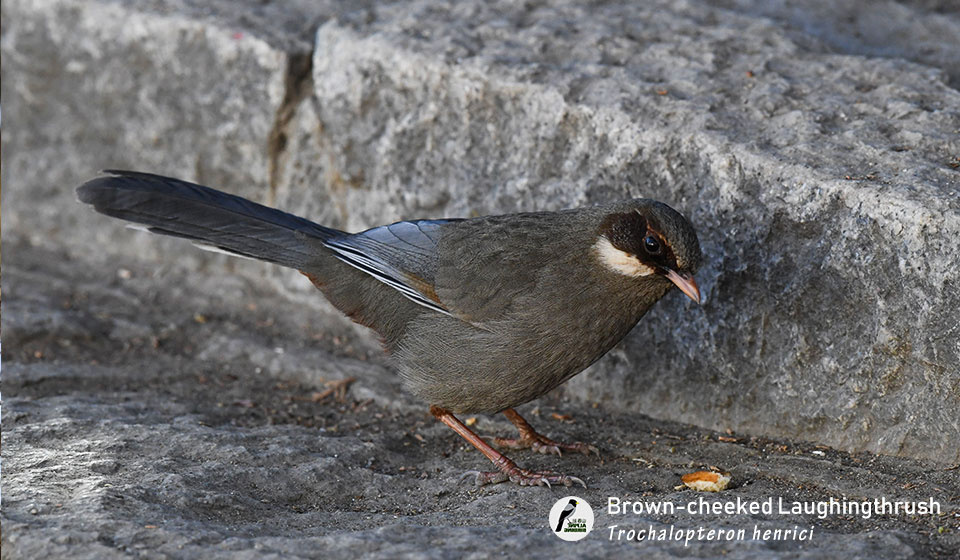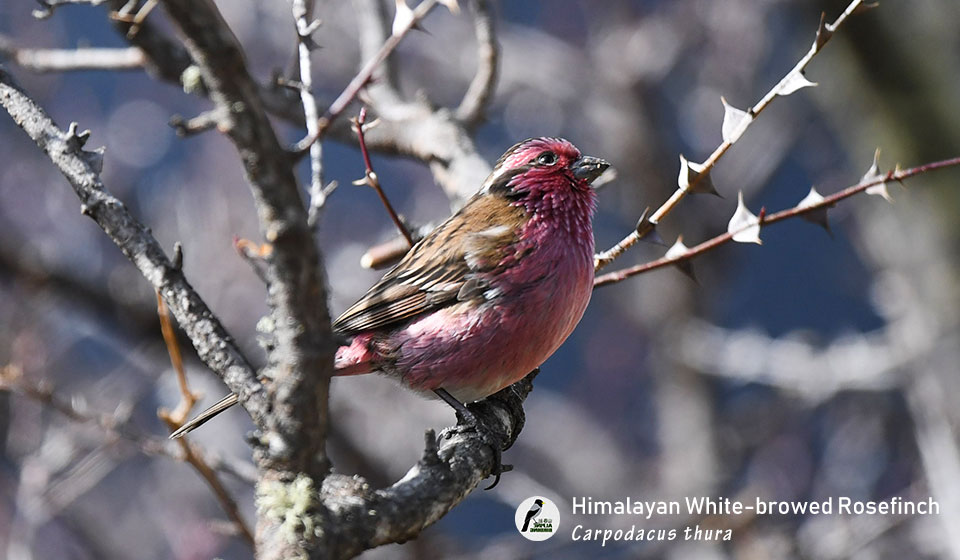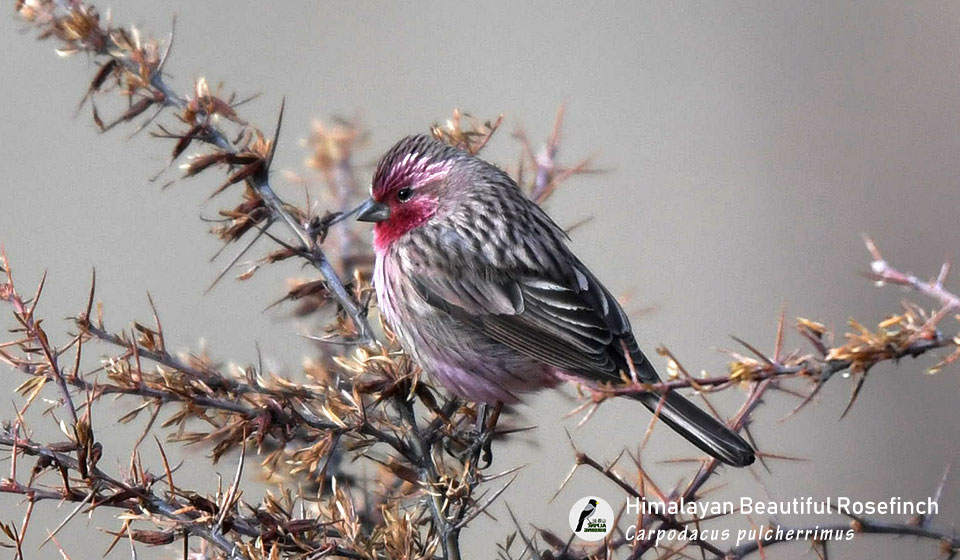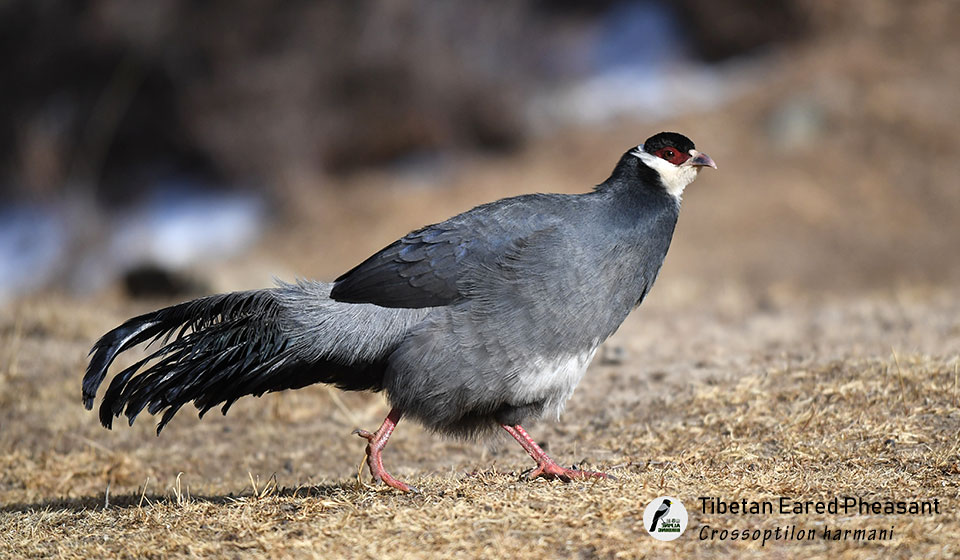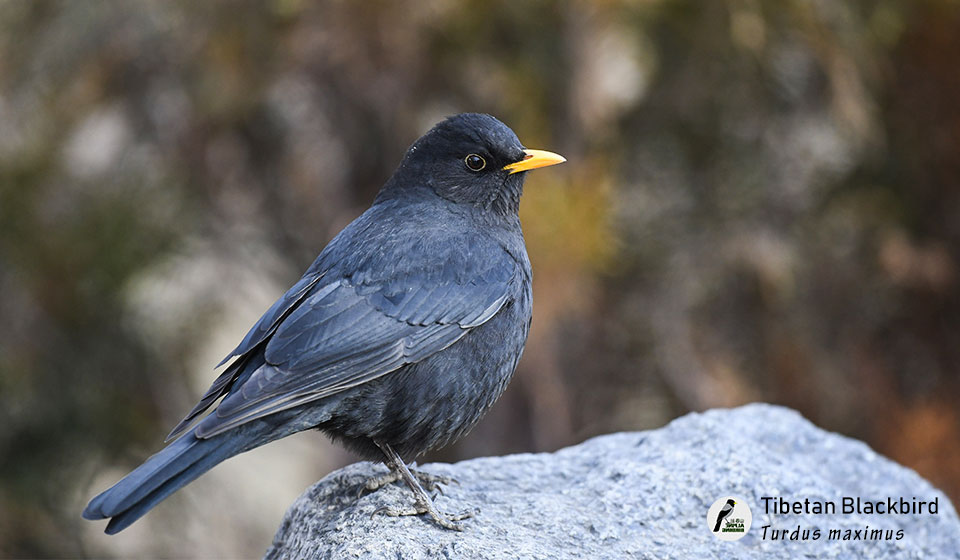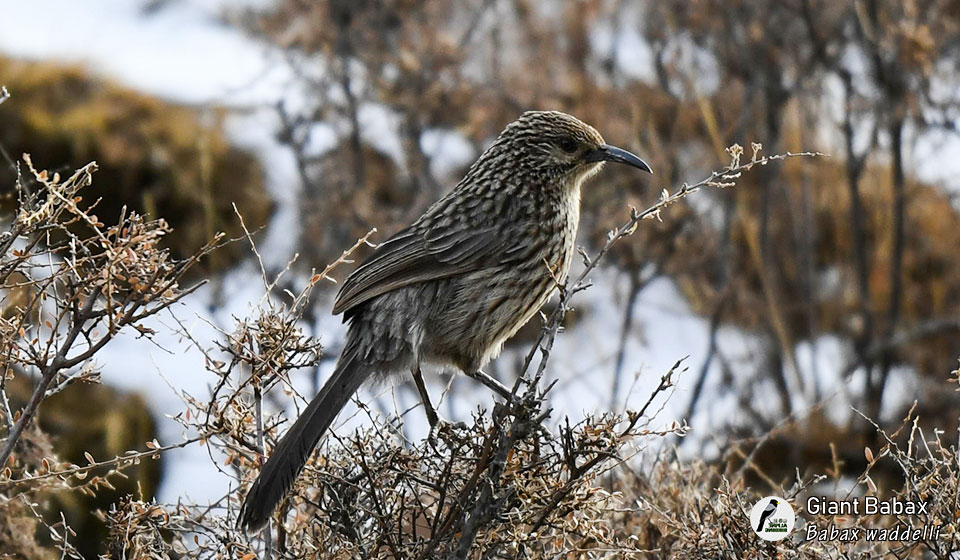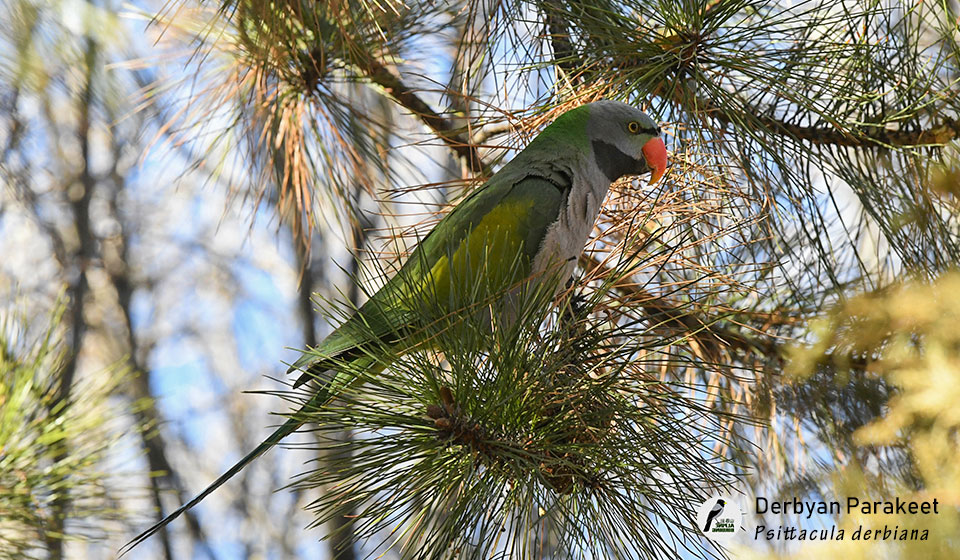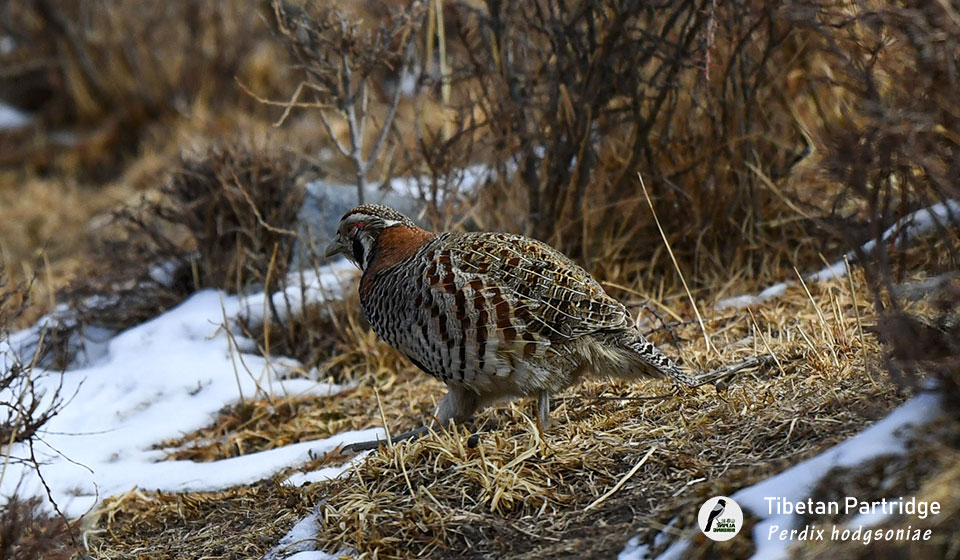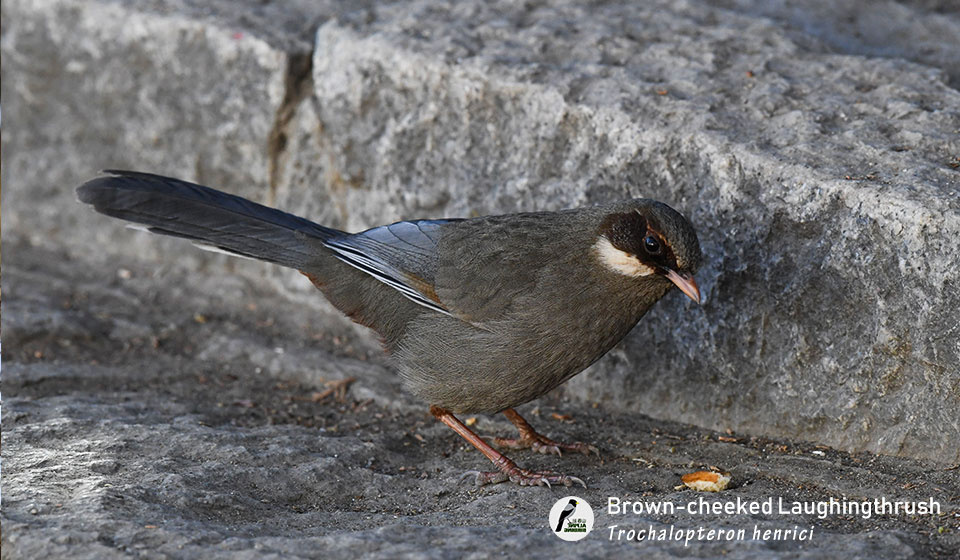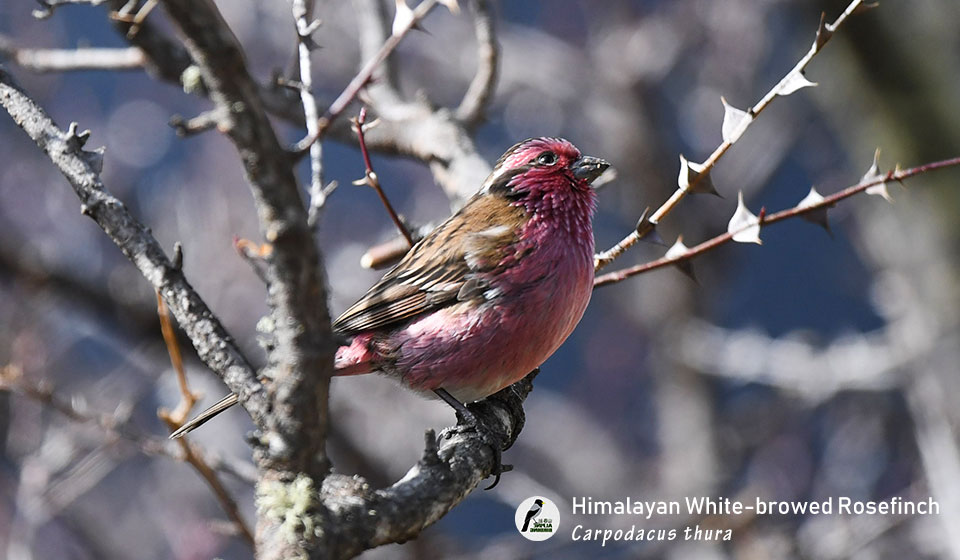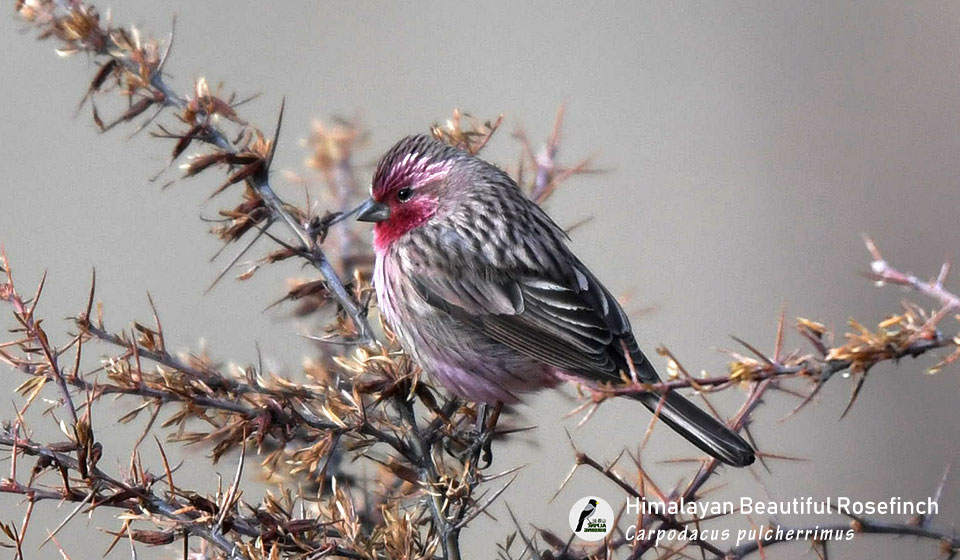 Dates & Prices
| Dates | Booking Status | Price | Single Supplement | Group Size | Guides |
| --- | --- | --- | --- | --- | --- |
| Jul 3-6, 2022 | Space Available | 1,400USD/pax | 150USD/pax | 8 | Dave Suddaby & Local Guide |
| Jul 18-21, 2022 | Space Available | 1,400USD/pax | 150USD/pax | 8 | Steve Potter & Local Guide |
Slide the sheet to the left to see the full sheet if you are viewing it on your phone or tablet.

The cost

includes

the following:
1. Private transportation throughout the trip, including airport pick-up and drop-off at

Lhasa Kongga International Airport

.
Internal flight ticket as listed in the itinerary.
2. All meals from lunch on day 1 to breakfast on day 4.
3. All the entrance tickets for places listed in the itinerary including cable cars and shuttle buses.
4. Hotel stays from the first day to the last day, two clients occupy one twin-bed room on a sharing basis at nice 3 or 4 star hotels in big cities and local best guesthouses in remote areas.
5. Bottled water and snacks throughout the trip.
6. Simple western breakfast whenever is possible.
7. Service charges of a professional western bird guide, an experienced local bird guide throughout the whole trip and a local culture guide at
cultural sites

.
8. China domestic travel insurance.
9. Service of all logistic supports.
The cost

does not include

the following:
b. Extra charges due to change of itinerary from the client's side or factors beyond the control of AlpineBirding such as natural disaster or governmental policy change.
c. Discretionary tips to the guides and drivers.
d. All personal expenses such as laundry service.
e.
ANY AIRFARE except those stated in the itinerary.
f. Any program not listed in the itinerary.
Itinerary
Tour Map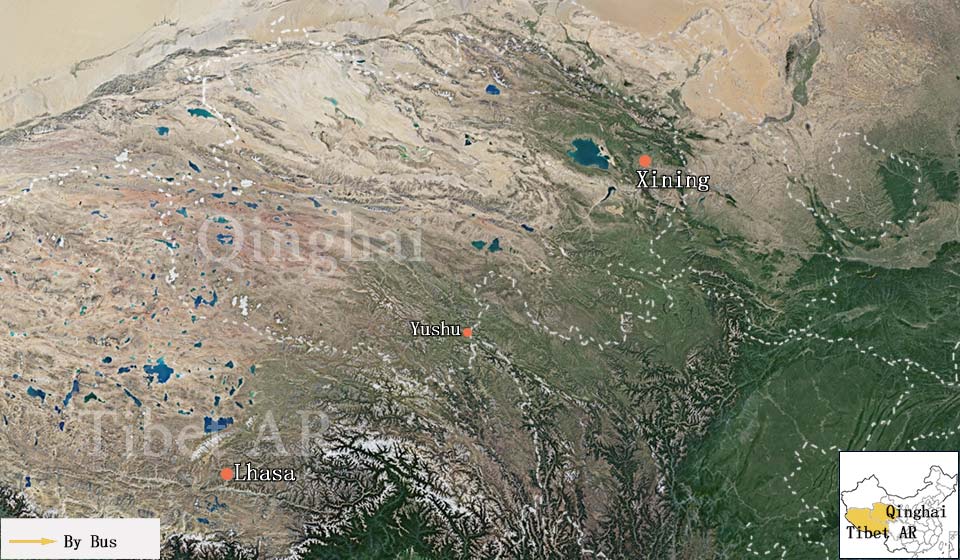 Day 1: Fly to Lhasa (Alt.: 3,660m).
Followed the main tour in Qinghai, we will fly either from Yushu or Xining to Lhasa. After checking in our hotel in Lhasa city, we will visit Jokhang Monastery. Founded in 650 AD by Sontzen Gampo,
one of Tibet's greatest monarchs,
Jokhang Monastery is known as the religious center of Tibet and a magnet for pilgrims from all over China. Throughout the day a colorful throng circumambulates the temple, the pilgrims chant and prostrate themselves. Inside the monastery, past rows of prayer wheels, are dark chapels containing a bewildering richness of frescoes and statues. We will also walk on Barkhor Street to explore local people's life.
Day 2-3: Birding and
Culture
Exploration in Lhasa
.
In the following two days, we will spend one day for birding and one day for culture exploration and sightseeing because both the endemic birds and rich cultural heritages are something you can not miss in Lhasa.
For cultural exploration, we will visit the famous Potala Palace and Drepung Monastery. Potala was built between 1645 and 1694, contains over 1,000 rooms, including numerous chapels, shrines, assembly halls, mausoleums, and is undoubtedly one of the world's most extraordinary and moving buildings. The interlinked 'white' and 'red' palaces tower 13 stories high and completely dominate the city below. The panoramic view from the roof across Lhasa to the mountains beyond is well worth a visit. In addition, Drepung Monastery, one of the famous Gelug sect gompas and the largest monastery in Tibet, is also an ideal place for an immersive experience of Tibetan culture.
The other day will be focused on birding. We will drive out of the city and visit Xiongse Temple at around 4,390m where we can enjoy the beautiful Tibetan Eared Pheasant, Tibetan Blackbird, Giant Babax, we may also see Tibetan Snowcock, Tibetan Partridge, White-browed Tit Warbler, Himalayan Beautiful Rosefinch, Pink-browed Rosefinch, Brown-cheeked Laughingthrush, etc. Besides, we will also visit some birding sites around the city such as Lhalu Wetland, Norbulingka, Lhasa River, we will find some interesting species including the elusive Lord Derby's Parakeet, Tibetan Blackbird, Streaked Rosefinch, Ruddy Shelduck, Common Merganser, Pallas's Gull, Plain Laughingthrush, Brown-cheeked Laughingthrush, White-browed Tit Warbler, Brown Accentor, etc.
Day 4: Departure from Lhasa.
In the morning, we can do some birding around the hotel to make our final efforts to add to our bird list if time permits, then we drive to the airport to catch your flight. AlpineBirding service ends.
Guide(s)
Currently, we have two departures of the "Lhasa Birding & Culture Exploration" that are guided by two of our best western tour leaders respectively.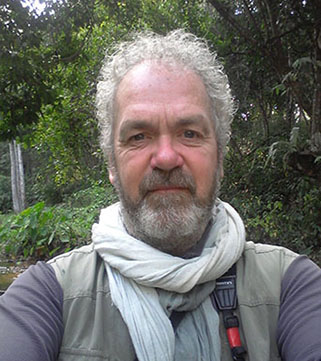 Dave Suddaby
Dave has had a keen interest in birds since his young days growing up in northern Lincolnshire, England, with many memorable times spent looking for migrant birds along the Lincolnshire and Yorkshire coasts. This shaped his future career which started as assistant warden at Bardsey Bird Observatory, north Wales in 1981. This was followed by further seasons at the famous Fair Isle Bird Observatory, Shetland before settling on mainland Shetland and working for conservation organizations on seabirds and breeding waders. In 2002, he moved to County Mayo, Ireland to work on restoring habitats for birds such as Corncrakes and Red-necked Phalaropes. He still lives on the rugged west coast of Ireland. He has traveled through Europe, the Middle East, Asia, Australasia and Africa, and taken part in two expeditions to China.

As early as in Steve's teenage, he already developed a passion for birds and wildlife while visiting his parents in central Africa. Since then, he spent over 40 years traveling and going to bird throughout Africa, Australia, South East Asia, UK, America, and the Middle East. 17 years ago, Steve decided to share all his birding experience and bird knowledge to the bird lovers and nature lovers by working as a birding guide. His previous experience helps him become an outstanding birding guide and tour leader. So far, Steve has been active as a professional bird guide throughout Australia and working as tour leader with local expert bird guides in South East Asia. Also, Steve has extensive interests in everything may show up during traveling including the mammals, cultures, he is willing to share all of it with the clients.
Besides, we will one local guide participate in each of the trips to ensure a high-end traveling experience.
Reports
This August, we spent 12 days exploring the exciting Qinghai-Tibet Plateau in its best summertime. As expected, we were rewarded by some iconic species (with ...

Release Time: September 13, 2021
In late winter and early spring of 2021, we visited the Qinghai-Tibet Plateau three times, mainly in its northeastern territory in Qinghai Province, to look f...

Release Time: May 21, 2021
Testimonials
Awesome fun birding in Tibet

We decided to visit Tibet for birding and contacted Alpine Birding for itinerary recommendation. The suggested routing is interesting and their staffs were highly efficient in arranging the land transfer and accommodation for us.

Philip, our guide is an exceptionally competent knowledgeable birder and photographer. He was quick to spot the birds and seemed to know all the best spots to see them. He was eager to help us to get a good spotting on different spectacular feather creatures through our binoculars. Even though many of the birds were well hidden and moving from tree to tree, he would quietly tracked their movements and swiftly showed us the direction.

Through his passion, we were able to see the winter migratory birds in Tibetan region. We were successful at seeing flocks of impressive species, such as the Black-necked Crane, Himalayan Monal, Tibetan Eared Pheasant, Blood Pheasant, Lord Derby's Parakeet, Snow Pigeon and some waterfowls. All these could never have even glimpsed on our own.

Philip was a great birding companion, he has given us a great deal of information concerning the behaviours of those birds that we have encountered. We felt at ease with him as he patiently showed us the specific cues in bird photography. He even offered his professional telephoto lens to us to enhance our photos presentations which obviously was the icing on the cake.

We place a very high value on the professional guide we had in Philip especially because of the high altitudes in our birding trail. The tour was well thought out and executed. He is reliable and will deal with all details in advance. Hot tea and snacks are always available which were soothing and recharging when the outdoor temperature was freezing. The pace was comfortable and we never felt rushed or inadequate during birding. Philip always concern about our responses to the environment and would refine the itinerary according to our physical conditions and preferences.

We have experienced a safe and enjoyable Tibetan Plateau birding tour and see a different facet of Tibetan nature. The landscape was breathtaking, it was such a pleasure to see stunning snow-capped mountains, beautiful lakes, forests and wild animals throughout the whole adventurous trip. Besides, we have tried stone claypot chicken hotpot (shiguoji), the soup was super delicious and welcoming especially after a long excursion.

All in all, the entire tour was full of positive experience and invaluable memories. Philip is superb and well acquainted with the nature ecosystem. We really appreciated the time he took to share with us about the birdlife, local culture and no need to mention the tremendous photos we took. We will never forget this fabulous experience and feel so fortunate to see all these wonderful flying creatures under his guidance. Certainly, it was clear that how much he loved what he does and we did learn a lot in this trip.

We cannot recommend his services enough and have no hesitation in recommending Philip for his birding skills, his determination to find beautiful birds and his pleasant character.

If you have any interest in birds or even just want to take a walk through some incredible forest or wildlife related travel with a guide there to teach you something new, this is the company for you! We think you will be as pleased as we have been and want to go somewhere new as soon as you return home.

Esther and Rick / Qinghai-Tibet Plateau

February 03, 2019
A wonderful birding trip with Parus Yang, a knowledgeable and highly professional bird guide.

We visited a variety of sites that included a range of very different habitats and saw a great many novel and interesting birds of the Tibetan Plateau. Parus's enthusiasm and bird expertise made the trip a great success.


David Sherry / Qinghai-Tibet Plateau

August 26, 2017
Despite the hassles, it has been a very joyful journey! We have had countless happy moments and excellent views of birds many rare birds. Thanks for the excellent arrangements. Looking forward to have chance to bird with you and your colleagues again.

Yes we indeed need to produce appropriate documents in order to claim insurance. To simplify matters, we will draft a sample letter to you, so that you can reprodue several copies of it, one for each member of the group, with the individual's name and identity appear in the letter. The draft letter should be ready within the next few days. Thanks.

KC Lee / Qinghai-Tibet Plateau

January 20, 2016