Birding in Kunming City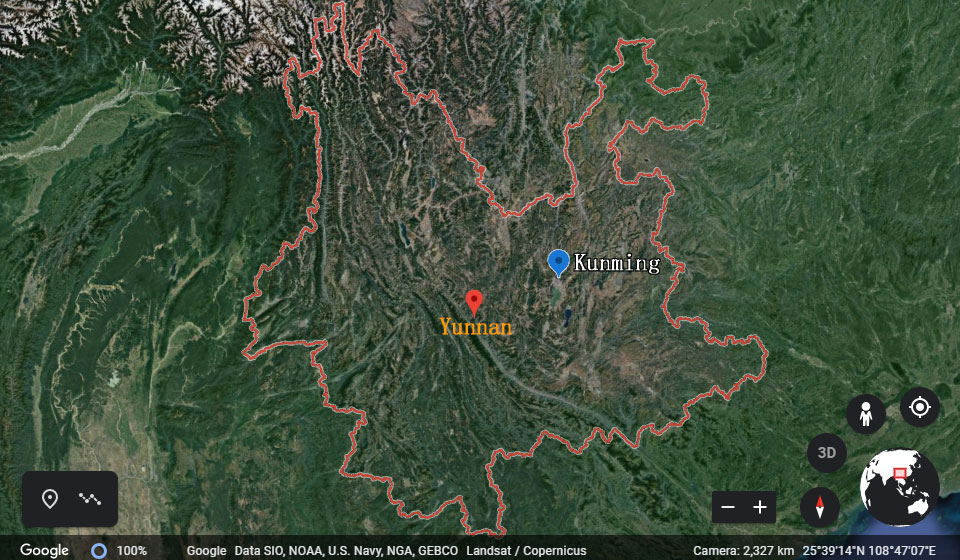 Kunming, the capital of Yunnan Province, has served as the political, economic, and cultural center for Yunnan Province for more than 2,200 years. Kunming has a total population of 7.26 million consisting of 26 ethnic groups and covers an area of 21,473 square kilometres.
Sitting in the middle of the Yunnan-Guizhou Plateau, Kunming is located at an altitude of 1,900m above sea level and at a latitude just north of the Tropic of Cancer. Thus Kunming has one of the mildest climates in China, characterised by short, cool dry winters, and long, warm and humid summers. Because of this, Kunming is also known as the "City of Eternal Spring" with blossoms and lush vegetation all-year round. In terms of birding, the numerous parks in Kunming have provided good habitats for birds.
Some Important Birding Sites in Kunming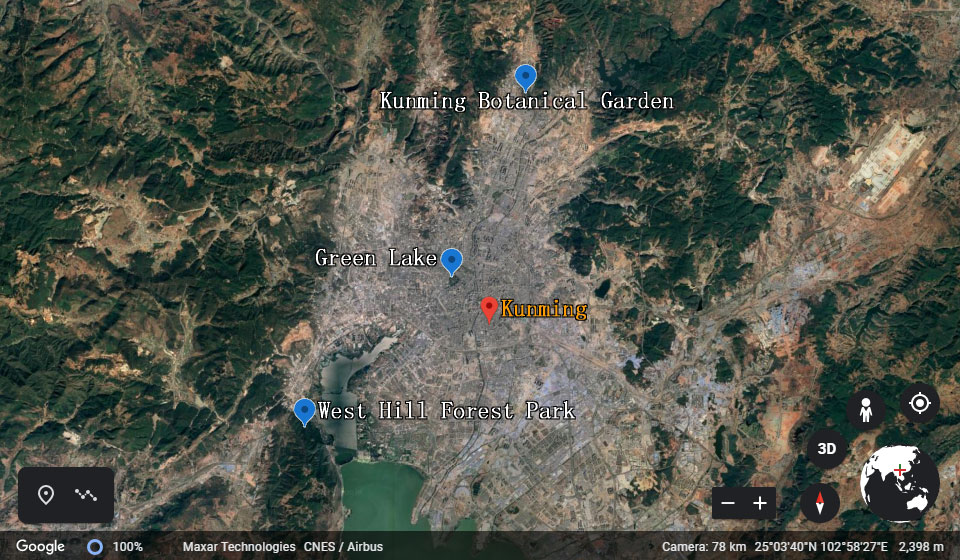 Located in the center of the city, Cuihu Lake is one of the most beautiful parks in Kunming. Each winter, a large number of Black-headed Gull come here from Siberia for wintering. Lots of local people like to feed the gulls in the park. Beside seeing the Black-headed Gull, you also have chance to see Grey Heron, Chinese Pond Heron, Black-crowned Night-Heron, Brown-breasted Bulbul, Sooty-headed Bulbul, Black-throated Tit, Swinhoe's White-eye, Red-billed Starling, Chinese Blackbird, Yellow-billed Grosbeak, etc. By the side of the park is Yunnan University, where you can search for some birds in the campus, such as Azure-winged Magpie, Grey-headed Canary-Flycatcher, Yellow-browed Warbler, Pallas's Warbler, Dusky Warbler, Spectacled Fulvetta, Indian White-eye, White-browed Laughingthrush, Blue-winged Minla, White-tailed Robin, Taiga Flycatcher, etc.
Located by the west side of Dian Lake, the largest in Yunnan and the 6th largest freshwater lake in China, West Hill Forest Park is 15km from downtown Kunming. The lush forest inside the park provides good habitat for some birds such as Grey-chinned Minivet, Short-billed Minivet, Blyth's Shrike-Babbler, Brown-breasted Bulbul, Mountain Bulbul, Buff-barred Warbler, Yellow-browed Warbler, Black-throated Tit, Spectacled Fulvetta, Rusty-capped Fulvetta, Ashy-throated Parrotbill, Whiskered Yuhina, Red-billed Leiothrix, Blue-winged Minla, Chinese Thrush, Blue-fronted Redstart, Fire-breasted Flowerpecker, Black-headed Greenfinch, etc.
Black Dragon Pool Park and Kunming Botanical Garden
Built in 1938 for the purpose of cultivating rare and endangered flowers, medicinal herbs, and precious trees, Kunming Botanical Garden covers 44 hectares and is affiliated to Kunming Botanical Research Institute which is under China Academy of Sciences. Located next to Kunming Botanical Garden, Black Dragon Pool Park has very good vegetation and large number of trees. Here you can see Red-tailed Minla, Blue-winged Minla, Red-billed Leiothrix, Japanese White-eye, Black-breasted Thrush, Blue Whistling Thrush, Black-headed Greenfinch, Crested Finchbill, Brown-breasted Bulbul, Long-tailed Shrike, Spot-breasted Scimitar Babbler, etc.