Birding in Tianjin Municipality


Tianjin is located in Northern China along the coast of the Bohai Gulf and covers 11,917 square kilometers of land territory. It lies at the northern end of the Grand Canal of China, which connects with the Yellow River and Yangtze River. The landform of Tianjin is generally flat, and swampy near the coast, but hilly in the far north, where the Yan Mountains intrude into northern Tianjin.
The highest point in the municipality is Jiushanding Peak on the northern border with Hebei, at an altitude of 1,078m. Tianjin is situated on East Asia- Australia bird migration flyway and 15.2% of its land area are covered by wetlands. Because of this, there are abundant bird resources in Tianjin. According to the investigation, 389 bird species have been recorded in Tianjin, of which 149 species are waterfowls. During migrating seasons, there are millions of migratory birds pass of inhabiting Tianjin. Established in the year 1404, Tianjin has a population of 13.54 million people. The Sea Gull has been chosen as the city bird of Tianjin. Tianjin features a four season, monsoon-influenced climate, with cold, windy, very dry winters and hot, humid summers.
Some Important Birding Sites in Tianjin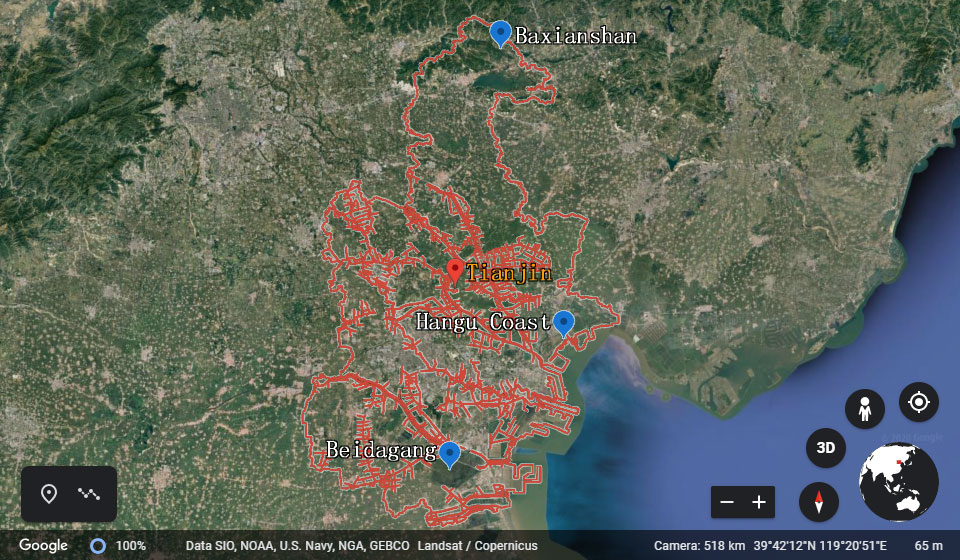 Baxianshan Nature Reserve
Established in 1984 and upgraded to national reserve in 1995, Baxianshan Nature Reserve covers an area of 5,360 hectares, of which 95% is forest. Located in Ji County, the reserve is the highest point of Tianjin. With undamaged ecosystems in this area, the reserve has abundant flora and fauna resources with more than 1,000 higher plant species and 172 vertebrate species. The reserve has recorded 137 bird species. Such as Hill Pigeon, Grey Nightjar, Grey-capped Woodpecker, Amur Falcon, Azure-winged Magpie, Coal Tit, Yellow-bellied Tit, Light-vented Bulbul, Vinous-throated Parrotbill, Pere David's Laughingthrush, Green-backed Flycatcher, Blue Rock Thrush, Godlewski's Bunting, Meadow Bunting, etc.
Located in the southeast of Tianjin, the reserve was established in 2001 and covers an area of 43,495 hectares. It is the the largest wetland reserve in this city. Lies on the East Asia-Australia migrant route, ever spring and autumn, there is a large flock of migratory birds inhabits here. According to the investigation, there are over 200 bird species have been recorded in the reserve of which 23 species are under national key protection. Such as Snow Goose, Swan Goose, Taiga Bean Goose, Tundra Bean Goose, Mute Swan, Bewick's Swan, Whooper Swan, Baikal Teal, Falcated Duck, Ferruginous Duck, Baer's Pochard, Greater Scaup, Smew, Greater Flamingo, Kentish Plover, Black-tailed Godwit, Great Knot, Ruff, Spotted Redshank, Relict Gull, Herring Gull, Caspian Tern, Oriental Stork, Eurasian Spoonbill, Eastern Marsh Harrier, Chinese Penduline Tit, Oriental Reed Warbler, Reed Parrotbill, Common Reed Bunting, Pallas's Reed Bunting, etc.
Hangu District is 50km away from Tangshan in Hebei Province to the east, 60km away from downtown in the west, 20km away from Tianjin. Hangu Coast consists of natural intertidal mudflats, aquaculture ponds, and salt pans. Its unique geographic location and wetland resources make it one of the most important stopover sites for migratory water birds along the East Asian-Australasian Flyway (EAAF). Each year, as many as 350,000 water birds stage and refuel here, more than 200 bird species, including rare and endangered species such as Red Knot, Great Knot, Curlew Sandpiper, and Nordmann's Greenshank. Other birds like Black-winged Stilt, Pied Avocet, Grey Plover, Lesser Sand Plover, Greater Sand Plover, Bar-tailed Godwit, Black-tailed Godwit, Ruff, Broad-billed Sandpiper, Sharp-tailed Sandpiper, Red-necked Stint, Sanderling, Asian Dowitcher, Terek Sandpiper, Grey-tailed Tattler, Saunders's Gull, Relict Gull, Black-tailed Gull, Lesser Black-backed Gull, Little Tern, Caspian Tern, Eurasian Spoonbill, Chinese Penduline Tit, Yellow-bellied Tit, Asian Short-toed Lark, Radde's Warbler, Dusky Warbler, Reed Parrotbill, Vinous-throated Parrotbill, Grey-streaked Flycatcher, Bluethroat, Siberian Rubythroat, Siberian Blue Robin, Red-throated Pipit, Buff-bellied Pipit, Pallas's Reed Bunting, Black-faced Bunting, etc.