Birding in Xi'an City


Located in the heart area of China, Xi'an is the provincial capital of Shaaxi Province and has a total population of more than 8 million. Xi'an is one of the Four Great Ancient Capitals of China, serving as the capital for 13 different dynasties including several of the most important dynasties in Chinese history Zhou, Qin, Han, Sui, and Tang.
As one of the birthplaces of Chinese civilization, Xi'an is one of the oldest cities in China and is home to numerous historical sites. Numerous emperors, their family members, and the ministers were buried in and around Xi'an. Thus in China it says that the underground treasures in Xi'an top the country. The world-famous Northern Silk Road started from here. The world famous Terracotta Warriors, which has been listed as world cultural heritage by UNESCO in 1987, is located 52km to the southeast edge of the city. There are some other important sites such as Giant Wild Goose Pagoda, Lesser Wilder Goose Pagoda, Old City Walls and Shaanxi Provincial Museum.
In terms of birding, the numerous parks, heritage sites, and campus are good places for birding due to their nice environment.
Some Important Birding Sites in Xi'an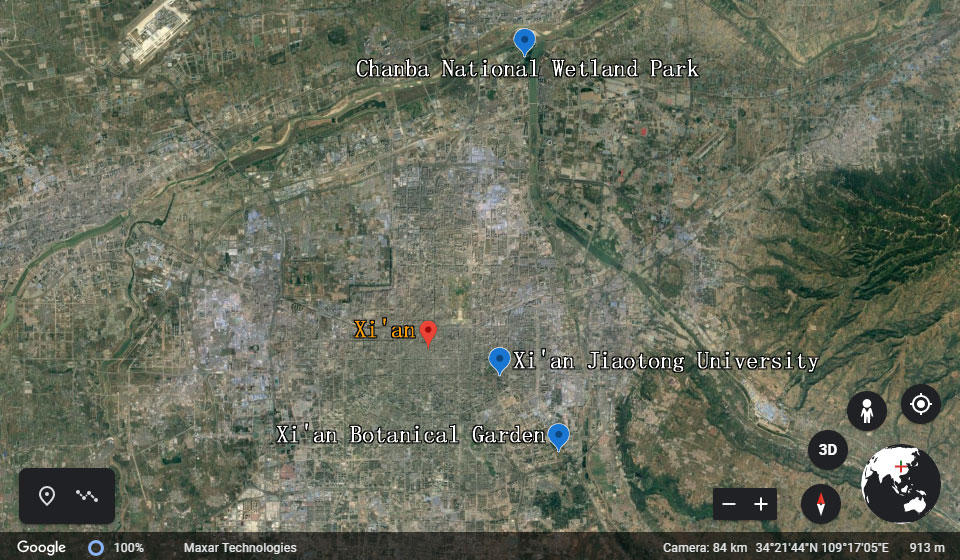 Xi'an Jiaotong University and Xingqing Park
The nice environment of the famous university in China and the neighboring Xingqing Park which used to be a royal palace garden provide excellent birding places. Here you have chances see Grey-capped Pygmy Woodpecker and Azure-winged Magpie.
Built in 1959, Xi'an Botanical Garden sits by the side of Xi'an Giant Wild Goose Pagoda. The good vegetation here has attracted lots of birds to come here including Orange-flanked Bush Robin, Vinous-throated Parrotbill, and Yellow-throated Bunting.
Chanba National Wetland Park
Chanba National Wetland Park is an important part of the wetland system in the Chanba Ecological Region and even Xi'an itself. It is located in the delta area of the Weihe River in the northeast of Xi'an. It is an inland river wetland and has the typical characteristics of the estuary wetland in northwestern China. Here you have chances see Ruddy Shelduck, Ferruginous Duck, Goosander, Great Crested Grebe, Common Moorhen, Grey-headed Lapwing, Common Sandpiper, Grey Heron, Eurasian Spoonbill, Crested Kingfisher, Grey-capped Woodpecker, Great Spotted Woodpecker, Long-tailed Shrike, Azure-winged Magpie, Brown-breasted Bulbul, Light-vented Bulbul, Silver-throated Tit, Vinous-throated Parrotbill, Pere David's Laughingthrush, White-browed Laughingthrush, White-cheeked Starling, Dusky Thrush, Naumann's Thrush, Brambling, Yellow-billed Grosbeak, Little Bunting, Black-faced Bunting, etc.