Birding in Fuzhou City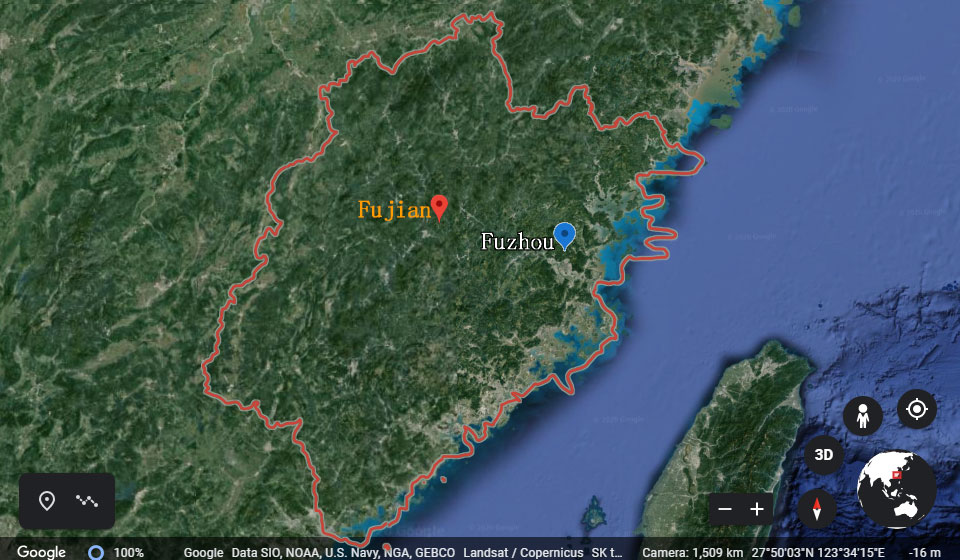 Fuzhou is the capital of Fujian Province in Southeast China and has a total population of 7 million people, of which over 4.4 million people staying in the city proper. Sitting at the estuary of Minjiang River, Fuzhou is an important port for trading in southeast China and has been serving as the political center for Fuzhou area for more than 1000 years. Located in a basin around the Minjiang Estuary, Fuzhou City has three hills in the city proper. Due to the numerous banyan trees planted inside the city, Fuzhou is also nicknamed City of Banyan Trees.
Fuzhou has a humid subtropical climate influenced by the East Asian Monsoon with long, hot and humid summer and mild, dry and short winter. Each winter thousands of migratory birds fly here for wintering. According to the survey made during 2006 and 2007, more than 100 bird species have been recorded in Fuzhou. Among them, there are 40 species under the Palaearctic realm, 31 species under Oriental realm and 29 species are cosmopolitan. The abundant bird resources in Fujiang sometimes enable you to see lots of birds even from a room window.
Some Important Birding Sites in Fuzhou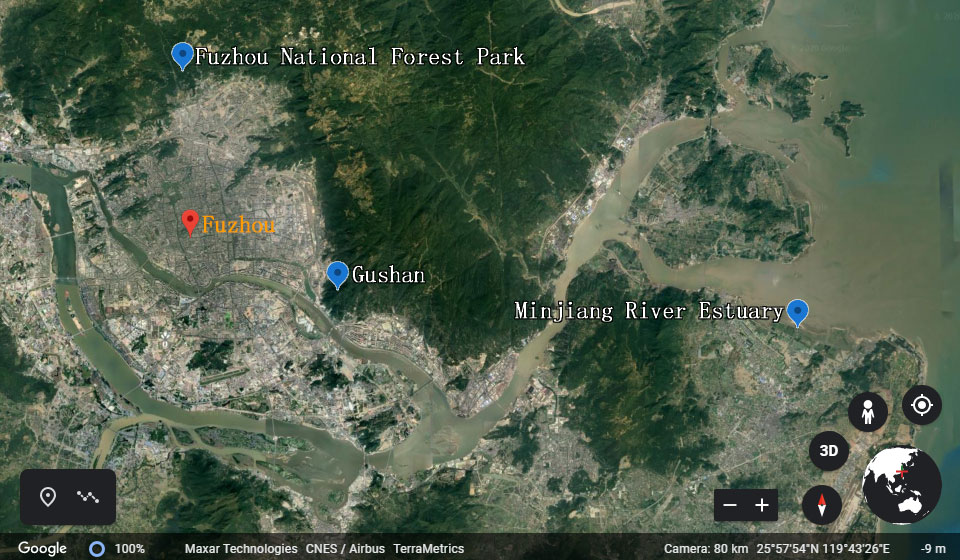 Fuzhou National Forest Park
Built in 1960, the Fuzhou National Forest Park covers 860 hectares and is rated as one of the top ten forest parks in China. This extensive natural area features more than 2,500 kinds of rare and precious trees from 36 countries that have been introduced and planted inside the park. Inside the park, there are many gardens for certain groups of precious trees species. This park has recorded more than 200 bird species in history including White-necklaced Partridge, Chinese Bamboo Partridge, Silver Pheasant, Spotted Elachura, Mountain Hawk-Eagle, Greater Coucal, Red-headed Trogon, Rufous Woodpecker, Pale-headed Woodpecker, Scarlet Minivet, Large Woodshrike, Common Tailorbird, Red-whiskered Bulbul, Mountain Bulbul, Chestnut Bulbul, Yellow-browed Warbler, Pallas's Warbler, Grey-headed Parrotbill, Black-streaked Scimitar-Babbler, Orange-bellied Leafbird, Tristram's Bunting, etc.
It includes Fuzhou city and the surrounding areas on the southeastern coast of Fujian Province. Covering over 3,000 hectares, Minjiang River Estuary is the largest natural wetland along Minjiang river system and an important stopover for migratory birds as well as a wintering area for various water birds because of its unique geographical location. In addition, the wetland also serves as a temporary "shelter" for some sea birds due to sudden bad weather. The wetlands have different habitats, rivers, coasts, basins, hill and islands for different birds. Such as Chinese Crested Tern, Great Crested Tern, Whiskered Tern, White-winged Black Tern, Caspian Tern, Gull-billed Tern, Black-tailed Gull, Wood Sandpiper, Spotted Redshank, Dunlin, Sanderling, Red-necked Stint, Sharp-tailed Sandpiper, Red Knot, Far Eastern Curlew, Grey Plover, Black-faced Spoonbill, Osprey, Peregrine Falcon, Yellow-bellied Prinia, Plain Prinia, Oriental Reed Warbler, etc.
Located in the eastern suburban of Fuzhou City and north side of Minjiang River, Gushan is about 8km from downtown Fuzhou and famous sightseeing places. Here you have chances to see Grey-chinned Minivet, Masked Laughingthrush, Rufous-capped Babbler, Crested Goshawk, Speckled Piculet, Grey Treepie, Red-whiskered Bulbul, Light-vented Bulbul, Black Bulbul, Mountain Bulbul, Fork-tailed Sunbird, Orange-bellied Leafbird, Yellow-billed Grosbeak, etc.