Birding in Xining City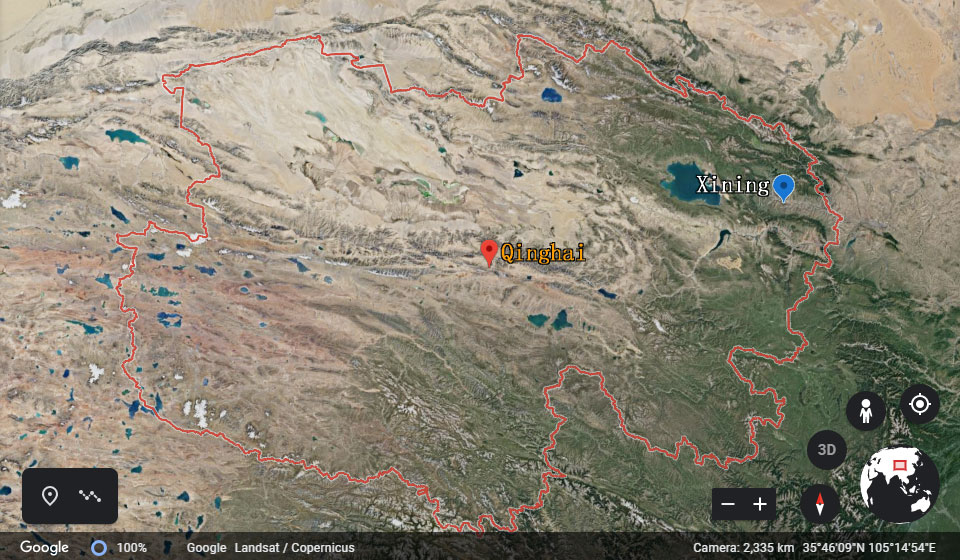 As the capital of Qinghai Province and the largest city in the whole Tibetan area, Xining is located in a fertile mountain basin in the upper reaches of the Huangshui River and the eastern edge of the Qinghai-Tibet Plateau. It is the political, economic, and cultural center of Qinghai Province with an average altitude of about 2,200 metres. According to the 2010 census, the city has a population of 220 million inhabitants featuring numerous ethnic groups including Han, Hui, Tibetan and Monguors.
With a history of over 2100 years, Xining used to be a chief commercial hub on the Hexi Corridor caravan route to Tibet and an important link in the northern Silk Road. With a continental highland semiarid climate, Xining enjoys cool summers and cold winters and thus is considered as a summer resort in China. The Riyue Mountain to the west of Xining is the demarcation line between exorheic rivers and continental rivers, agriculture area and herding area, monsoon area and non-monsoon area, Loess Plateau and Qinghai-Tibetan Plateau. Due to the high elevation and dry climate conditions, the birds in Xining are quite unique.
Some Important Birding Sites in Xining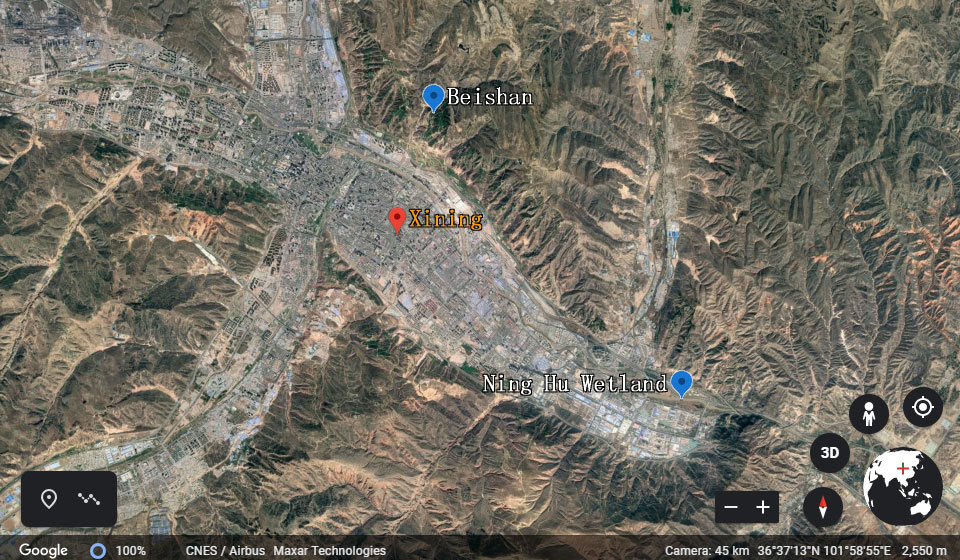 Beishan
Located on the north edge of Xining City, Beishan is a park with monasteries and artificial forests. There is a circular road going from the bottom of the mountain to the top and then come down to the bottom on the other side. While walking or driving on the road, you have chances to see Eurasian Sparrowhawk, Grey-headed Woodpecker, Plain Laughingthrush, Oriental Turtle Dove, Hill Pigeon, Chestnut Thrush, Godlewski's Bunting, Meadow Bunting, Red-billed Chough, Black Redstart and Daurian Redstart, Pale Rosefinch, etc.
Ning Hu Wetland is located in the east of Xining city, Qinghai province, covering an area of nearly 50 hectares. It is a green barrier for the east gate of xining city. The lake is open and reedy, which is a natural gathering place for wild birds. While walking on the road, you have chances to see Northern Shoveler, Gadwall, Falcated Duck, Northern Pintail, Red-crested Pochard, Common Goldeneye, Long-tailed Duck, Smew, Goosander, Hill Pigeon, Little Ringed Plover, Common Sandpiper, Pallas's Gull, Great Spotted Woodpecker, Rook, Bearded Tit, Oriental Reed Warbler, Silver-throated Tit, Pere David's Laughingthrush, Red-throated Thrush, Daurian Redstart, Rosy Pipit, Water Pipit, Black-faced Bunting, etc.